10 Tips To Caring For Natural Stone
Aug 25, 2015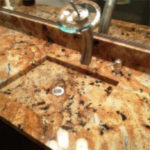 When you are remodeling your kitchen or renovating your bath, you may decide to finally get those natural stone countertops, flooring or walls you've always wanted. You've made a beautiful choice, but do you know how to care for your new natural stone? Here are 10 tips to ensure your natural stone stays as stunning as the day we install it for you:
Use a rug or mat to catch dirt or sand before it comes in on your shoes and scratches your new stone flooring.
Use placemats when eating at your marble or granite counter.
Never place hot pots or cookware on a stone surface. Always use a trivet.
Coasters should be placed under all glasses but particularly those holding drinks containing acid—like juices or alcohol, particularly wine.
Wipe up spills right away, even though your stone is sealed. Things that can permanently ruin stone include perfume, aftershave, cologne, nail polish and nail polish remover, salad dressing, yogurt, tomato sauce, wine, lemonade and orange juice.
Use mild soap and water to clean the stone surfaces.
Never use abrasive cleansers like Comet and don't use scouring pads. The silicon carbide they contain can scratch stone surfaces.
Don't disinfect the stone surfaces with bleach or ammonia (including glass cleaner)—and don't even use "natural cleaners" like vinegar (acidic) and baking soda (alkali) and both can scratch the stone. Read the label of any cleaning product to make sure it is safe for stone before using.
No mopping with "Mop & Glo" or other shine agents or standard floor wax. These build up over time and dull the glow of your stone. Have your new floors professionally polished.
Before sealing your floors or having them sealed, make sure they have been recently professionally cleaned. Sealing an unclean floor will just trap dirt and damage the stone.
We, at Cornerstone Builders, know that installing natural stone as part of your renovation or remodeling project is a big investment and one that we want to help you enjoy for years to come. For more questions about the care and maintenance of your new natural stone counters, floors or walls, just ask our experienced designers when we come to discuss your remodeling project. We are happy to share our expertise.