Chandeliers: Not Just For Dining Anymore
Aug 28, 2015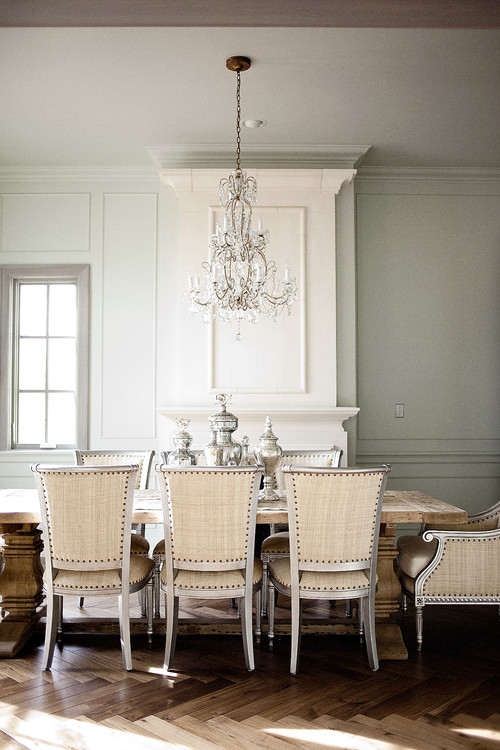 If you are considering renovating or remodeling your home, you must plan to change the lighting to suit your new environment and, though recessed lights are the safe choice, they aren't the only one. Maybe you love the chandelier in your mother's dining room or the elegant one in your grandmother's home. Well, you can certainly choose from many beautiful ones to light up family dinners, but chandeliers are finding their place in other rooms these days—from the bedroom to the kitchen. So go ahead and indulge your love of luxury when you are remodeling.
Here are a few tips to keep in mind when thinking about chandeliers:
Get out the measuring tape. You don't want the chandelier to overpower the space so here are some guidelines to make sure the one you choose is right-sized.
Room Size: Width and Height
For a dining room that is smaller than 10' x 10', your chandelier should measure between 17″ and 20″ in diameter. For a dining room that is approximately 12′ x 12′, your chandelier should measure 26″ to 27″ in diameter. For a dining room that is in the 14′ to 18' range, your chandelier should measure between 24" and 36" in diameter. For every foot of room height, your chandelier should be 2.5" to 3" high (12' room height requires a chandelier that is 30" to 36" high).
Table Size and Shape,/h2>
Your chandelier should be approximately one-third the width of your round dining room table (60" table requires a 20" chandelier). If your dining room table is oval or rectangular you can utilize a slightly wider chandelier.
From Table to Chandelier
Leave approximately 30" to 36" between your dining room table and the bottom of your chandelier. (If you have very high ceilings in which a lot of negative space between the chandelier and the ceiling creates an off balanced appearance, try an oversized chandelier hanging 4 or 5 feet above the table. At this height, you may need to subsidize the chandelier's lighting with floor lamps or other means of lighting.) Make sure you can see your guests (even over a centerpiece or vase of flowers). Keep your chandelier low enough to effectively light up your table. Center the chandelier directly over your table, which may not be in the center of the dining room considering most people have a buffet against one wall.
Picking the Perfect Chandelier
Does your home have a style? Architecturally speaking, if you have a modern home, choose a modern chandelier but don't be afraid to mix it up a little. Matchy-matchy is Old School, but you may also want to consider resale value down the road. If you have a Tuscan mansion, you may want to keep to a style that suits that—like large wrought iron chandelier.
Bear in mind, elongated shapes (like teardrop) take up vertical space, draw the eye from the ceiling down and therefore do best in dining rooms with high ceilings. Wide, round shapes make the most of dining rooms with standard or lower ceilings. Ornate chandeliers take up a lot of visual space and require a very formal setting. Simple, minimalist designs take up less visual space and complement sleek, modern dining rooms.
Don't stint on color. Crystal chandeliers come in a rainbow of hues adding either whimsy or elegance to a room instantly.
Put a dimmer switch on your chandelier. This can make not only a dinner more intimate, but creates a great mood for romance in both the bath and bedroom.
Aim for the total wattage of your chandeliers bulbs to be between 200 and 400 watts to meet your lighting needs.
At Cornerstone Builders, our lighting designers will help you choose the perfect chandelier for your renovation or remodeling project. Call us today for a free consultation.