Choosing the Perfect Bathroom Vanity
Sep 23, 2013
There are many factors and items that go into your bathroom remodel. The bathroom vanity is one of the big items that will surely set the tone for your entire bath remodel. When you choose the right bathroom vanity, your entire bathroom will follow those same standards.
Choosing a bathroom vanity may prove to be difficult with the variety of options and the amount of factors that go into it: the size of your bathroom, your sink, etc. Here, we'll list out a few different types of bathroom vanities to help you pick the perfect one for your home.
Cabinet-Style Vanities
Cabinet-style vanities are considered a traditional bathroom vanity. Oftentimes, cabinet-style vanities come with tons of storage space. If you have a smaller bathroom, this type of vanity might be ideal due to that extra storage space. Cabinet-style vanities come in a broad set of styles, including traditional, contemporary, classic, and modern. If you're looking for a contemporary bathroom vanity, this type may be for you!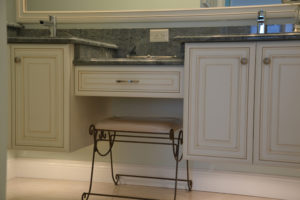 Wall-Mount Vanity
Wall-mount vanities are attached to the wall in your bathroom, which then gives an open space between the sink and the floor. This often gives your bathroom a contemporary look with its clean lines and space. Some wall-mount vanities come equipped with cabinet storage beneath, however, some simply come as countertops. Be sure to keep storage space in mind when choosing this type of vanity.
Choose the Perfect Bathroom Vanity Style for You
Both types of bathroom vanities have a lot to offer. When choosing a bathroom vanity, style is also important. If you're looking for a contemporary feel to your bathroom, adding a vanity that has clean lines and solid colors may do the trick. If you're going for a rustic look, try for softer colors. When choosing your vanity, if you can combine style and functionality, your bathroom will have you and your guests wowed.
Bathroom Vanity Installation in Fort Myers, Naples, Bonita, and SWFL
If you're looking to remodel your bathroom but are having trouble choosing the right bathroom vanity, Cornerstone Builders of Southwest Florida can help! We've been remodeling in SWFL for 25 years and have served over 16,000 clients in the local area.
Our employees have the expertise and the experience to assist you in all aspects of your bathroom remodeling project. From shower doors to floor tile to bathroom vanities, we are there every step of the way to ensure that the final product is one that will leave you wowed for years to come.
Are you ready to choose and install your new bathroom vanity? Contact us today!