Choosing the Right Kitchen Appliances for Your Kitchen Remodel
Jan 30, 2014
Our kitchen appliances are often the most used items in your kitchen, and as such, typically require the biggest investment. Choosing the perfect appliances to match both your style and your use of them is important. When choosing your new kitchen appliances, it's important to keep a few things in mind and ask yourself a few questions. Do you cook for a large family or just for two? Do you often hold large family gatherings?
Once you've answered those questions and decided what you'll be using your appliances for most, you can then head onto the decision-making phase.
The Different Types of Kitchen Appliances
The first appliance to consider is often the most used appliance of them all: the refrigerator. There are a variety of makes and models to choose from, however, it's important to choose a refrigerator that will suit your needs. For example, if you're a family of two, you will likely be able to use a simple refrigerator. However, if you're a growing family of 4, a larger refrigerator will be required. Other qualities to consider in your new refrigerator include door controls and energy efficiency (which should be available for all of your appliances).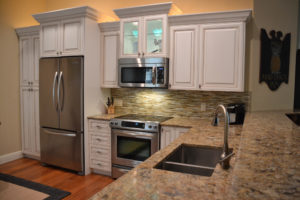 Choosing your oven/stove is a lot like choosing your refrigerator. It's important to think about just how much you plan to use it and what you plan to use it for. For example, different ovens/stoves require different amounts of energy to use them. Electric ovens/stoves are known for heating up slowly while gas-operated ovens/stoves are well known for heating up swiftly.
A new dishwasher may also be an option for your kitchen (again, depending on how often you'll use it). If you prefer to wash dishes by hand, you may just be able to invest in a very durable sink. However, dishwashers often save a good deal of time and energy. Lower-end models have simpler controls, while the higher-end models allow for more flexibility.
Helping You Choose the Perfect Kitchen Appliances: We're Here to Help!
At Cornerstone Builders of SWFL, our main goal is to provide you with an end result that will WOW you and your guests for years to come. When it's time for you to remodel your Fort Myers, Naples, or SWFL home, we're there to help you choose the perfect kitchen appliances for your new remodel. Our electricians are licensed and ready to install the appliances you choose.
At Cornerstone, we like to think of your home as our home and we want to WOW you with our quality of work. If you're ready to transform your kitchen, contact us here today. We look forward to hearing from you!