Different Types of Bathroom Countertops
Nov 05, 2013
Are you having trouble deciding on a bathroom countertop for your home? When choosing a bathroom countertop, it's important to keep in mind that the process can be a little different than when you choose a kitchen countertop.
At Cornerstone, we like to provide our clients with a variety of bathroom countertop ideas, as well as providing value in your bathroom remodeling project. When you choose Cornerstone to be your bathroom remodeling contractor, you can be sure that we'll be with you each step of the way, from the free in-home consultation to completion of the project.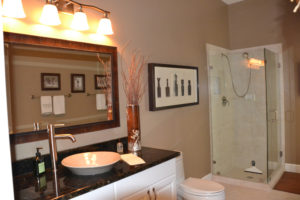 Differences Between Bathroom & Kitchen Countertops
When choosing a bathroom countertop, it's important to know the amount of durability you need. Typically, bathroom countertops don't need to be as durable as kitchen countertops, simply because there is less activity on them.
While durability is an important factor to consider when choosing a bathroom countertop, it's also important to keep price, required maintenance, and appearance in mind. Since there is less focus on durability in bathroom countertops, appearance can take center stage. A nice appearance can still be practical, and this makes choosing bathroom countertops slightly easier.
Bathroom Countertop Ideas
Bathroom countertops come in a wide variety of materials (much like kitchen countertops): natural stone (granite, marble), quartz, concrete, tile, solid surface, laminate, and specialty finishes (like stainless steel).
Granite continues to be a popular choice among bathroom remodelers and is considered to be the "Rolls-Royce of countertops." Granite countertops are long lasting, durable, and stain resistant, however, there is some upkeep involved with sealing to be completed every 6 – 12 months. Quartz countertops provide the look of granite and marble countertops, but require less upkeep and are very easy to clean. Tile countertops are also popular, but can prove to be difficult to clean due to the grout used to install them.
It may seem like there are a lot of decisions to make, however, there's no need to fret! Our dedicated team of kitchen and bathroom designers are here to help you navigate through the process from start to finish.
Bathroom Countertop Installation in Southwest Florida
Cornerstone Builders of Southwest Florida is your number one source for all of your bathroom remodeling needs. From tub and shower installation to new bathroom tile to bathroom countertop installation, we're here to help every step of the way. We've helped over 16,000 Southwest Florida residents remodel their homes and have been in the remodeling industry for over 25 years.
If you're ready to discuss your bathroom countertop options, call us at (239) 332-3020 or fill out this form to schedule your free in-home consultation today!