Kitchen Window Treatments| Things to Consider
May 27, 2014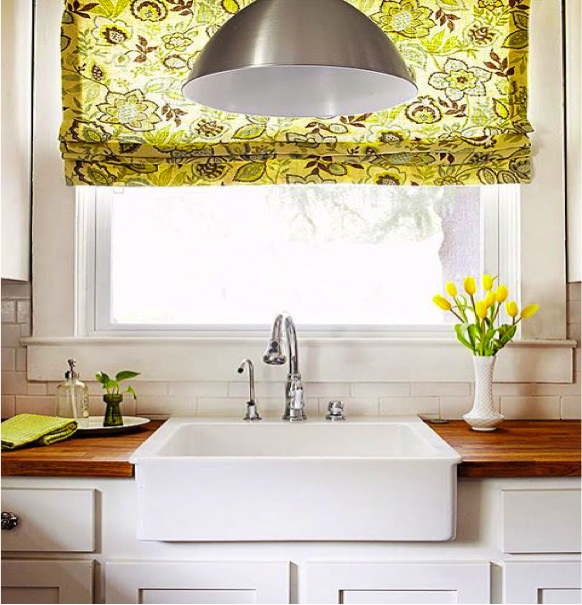 Kitchen Window Treatments
Kitchen window treatments may or may not be fundamental to any room, it all depends on how much time you spend in your kitchen. Choosing window treatments can cause just as much confusion as choosing paint colors. (The options are endless)
Choosing Kitchen Window Treatments
According to Better Homes and Gardens, there are four things to consider when choosing kitchen window treatments.
Decoration:

Between the colors and patterns, your options are limitless. Window Treatments dress up a space, and offer a bright statement. You can enhance the design of your kitchen with the pattern/color of window treatments. A shade with floral pattern such as the picture listed above, brightens up the white kitchen cabinets and the wood countertops. Adding that pop of color in your kitchen with window treatments is a grand idea.

Privacy & Security:

When it's late at night and you and your family are gathering in your kitchen you can easily lower any window treatments to keep the neighbor's from looking in. The sense of privacy comforts those that do not like to be exposed. Make sure the window treatments you choose offer the privacy that you are searching for (at night with the lights on in your kitchen, walk outside and see how exposed your kitchen is to the outside world).

Light Control:

Light control is important in order to control the amount of sunlight coming into your home. Sunlight can be beneficial, but it's also damaging, especially to a home. Make sure to look for window treatments that offer protecting abilities from UVA and UVB rays.

Clean-ability & Maintenance:

The clean-ability is all in the material of the window treatment. Kitchen window treatments are prone to dust, cooking oils, splatters, and much much more. Depending on the type of material that you choose, your kitchen-cleaning chores can either become a simple or tedious task.
Kitchen Remodeling in Southwest Florida
If you're considering a kitchen remodel, call Cornerstone Builders of Southwest Florida to provide you with endless opportunities for your kitchen. We want to ensure that our clients are 100% satisfied with the final product in their kitchen remodel. We want to WOW you and your guests for years to come! If you're ready to transform your kitchen, Contact us here today. We look forward to hearing from you!