Master Bathroom Remodeling: Turning Your Bathroom into a Luxurious Retreat
Jun 26, 2013
According to real estate experts, the bathroom is the new den. What this means is that more and more people are seeking to design a bathroom that both serves its main purposes AND provides a luxurious area of escape to those that use it. While those are both motivating factors, it's also important to note that remodeling a master bathroom can prove to be a very valuable investment for property resale purposes.
At Cornerstone, we've seen our fair share of bathroom remodels. If you've decided that your master bathroom needs a makeover, we have some tips and ideas to help you decide what you'd like to see when your new bathroom is complete.
Bathroom Remodeling Trends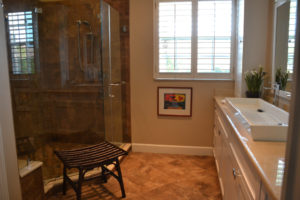 One trend making a splash among bathroom remodelers (literally!) is the concept of larger showers. Rather than having a tub and a shower in the master bathroom, homeowners are opting to create larger and more open showers. In addition, many are adding a seating area within the shower and replacing sliding glass shower doors with hinged doors.
Another trend seen among remodelers is the idea of letting more natural light in. With natural light, you're able to make your bathroom seem larger and simply enhance its features. Some are adding more windows — even skylights to let the light in. Also, when you opt for a lighter color scheme and add in the natural light, you're sure to create a spa-like sanctuary.
More Space In Your Master Bathroom
Most of the time, master bathrooms are shared between two people. With two people sharing the same area, things can tend to get a little cramped and crowded. However, when you go for a more open floor plan, you can avoid this!
If you're itching for more space, we can create a bathroom with sinks on opposite sides to allow for more room. This could come in handy during those busy mornings!
Cornerstone Can Help You Create Your Bathroom Escape
Your master bathroom should resemble that of a day spa. Once you've got your ideas together (or even if you're still working on them), you can call Cornerstone in to do a FREE in-home consultation! We'll send one of our specialized designers out to your home to work alongside you to develop a plan to create your perfect master bathroom.
Cornerstone Builders has been serving Fort Myers and Naples remodeling needs for 25 years. With over 16,000 customers and counting, Cornerstone is indeed the cornerstone of remodeling in Southwest Florida. Pay ZERO deposit to start your master bathroom remodeling project and receive a LIFETIME MATERIAL WARRANTY on all items we manufacture for as long as you own your home.
Contact us today to schedule your in-home consultation!
0 comments