5 Types of Floor Tile Patterns
Aug 01, 2013
There are plenty of options for flooring in your home – carpet, wood, and tile. However, tile continues to be popular among homeowners and home remodeling contractors. With so many different kinds of tiles and tile patterns, it's important to install tile that is durable and attractive.
There are two main kinds of material that are used for floor tile: natural stone tile and ceramic tile (marble, granite, and slate). With those, however, there are many more floor tile patterns to choose from. Here, we'll list 3 types of floor tile patterns and why one might be better for your home.
Floor Tile Pattern #1: Checkerboard Tile
Checkerboard tile looks exactly like what you think: a checkerboard. Using two different colors, you can create a checkerboard-like floor that runs either straight or diagonally.
Floor Tile Pattern #2: Straight Lay Tile
Known as one of the more simple tile patterns, straight lay tile is one of the best options to show every detail of the tile you select.
Floor Tile Pattern #3: Pinwheel Tile
This tile pattern design consists of one small square tile surrounded by four larger tiles. Using the pinwheel tile pattern will allow you to choose a set of colors that complement each other well, such as beige and brown.
Floor Tile Pattern #4: Offset Pattern Tile
When using the offset pattern for your floor tile, your tile installers will offset each tile by approximately half the tile width. Using this pattern will provide a unique look and allow you to choose a range of colors to complement your rooms.
Floor Tile Pattern #5: Diagonal With Dots Tile
This floor tile pattern consists of four large tiles connected by one smaller tile for accent. This option is great for choosing one color for a majority of your décor and using the small tile as an accent piece.
Tile Installation in Naples, Fort Myers, and All of Southwest Florida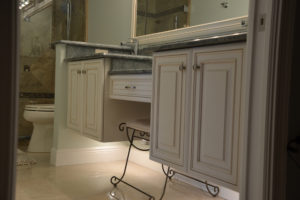 Whether you've decided on the type of tile you'd like in your home or are still in the decision-making process, we can help! Our licensed tile installers aim to provide a tile pattern and installation that will WOW you and last throughout the years you're in your home!
Our services include a free in-home consultation, zero deposit on project start, and a lifetime material warranty on all products we manufacture. We've been serving Southwest Florida's custom tile installation needs for 25 years and have over 16,000 clients to show for it. At Cornerstone, we develop a custom approach for each project. We ensure that you get a final product that you want and deserve – one that will wow family and friends!
Ready to have some new tile? Contact us today to schedule your free in-home consultation!