Custom Kitchen Island Designs & Uses
Jul 23, 2013
Kitchen islands are a great addition to the favorite room in your house, coming in handy for things like extra cooking space during the holiday season or even providing an extra place to drink your coffee while reading the morning paper.
When you opt for a custom kitchen island, you're able to help your kitchen remodel contractor design a kitchen island that is both functional and beautiful. Before you begin working with your kitchen remodel contractor to design your kitchen island, there are a few things to keep in mind.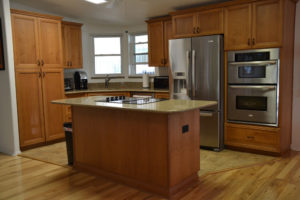 #1: What Will Your Kitchen Island Be Used For?
As mentioned previously, a kitchen island can be used for many things: extra cooking space, a place for meals, or even a workstation. It's important to keep the use of your kitchen island in mind. If you're looking to do a combination of cooking and eating, for example, you may want to consider a larger kitchen island. Keeping the end use in mind will prevent further headaches down the road.
#2: Do You Plan to Include Storage in Your Kitchen Island?
Another great benefit of a custom kitchen island is having extra storage. Whether you plan to eat or cook, there will always be extra space in your kitchen island cabinetry. This can be a great place to store those pots and pans that always prove difficult to move.
#3: How High Do Your Kitchen Island Countertops Need To Be?
In addition to knowing the use of your kitchen island, if you plan to be seated here at any point, you should also keep the countertop height in mind. Would you rather have high barstools for seating? Or would you rather keep the countertop at typical table height? The choice is up to you – and with custom kitchen island design, you're able to make those decisions and create the perfect island for your home.
Custom Kitchen Islands in Fort Myers, Naples, Bonita Springs, and All of SWFL
Cornerstone Builders of Southwest Florida has been providing some of the best kitchen remodeling work in Southwest Florida for 25 years. With over 16,000 clients and counting, Cornerstone Builders will create a custom kitchen island that will be sure to WOW you! Also, pay no deposit to begin your custom kitchen island and receive a FREE in-home consultation.
When you work with Cornerstone, you're sure to receive top-quality kitchen remodeling, including a top-of-the-line custom kitchen island that will wow you for years and years to come.
If you're ready to get started on a new kitchen island for your home, contact us today!