A Whiter Shade of Pale
Nov 05, 2015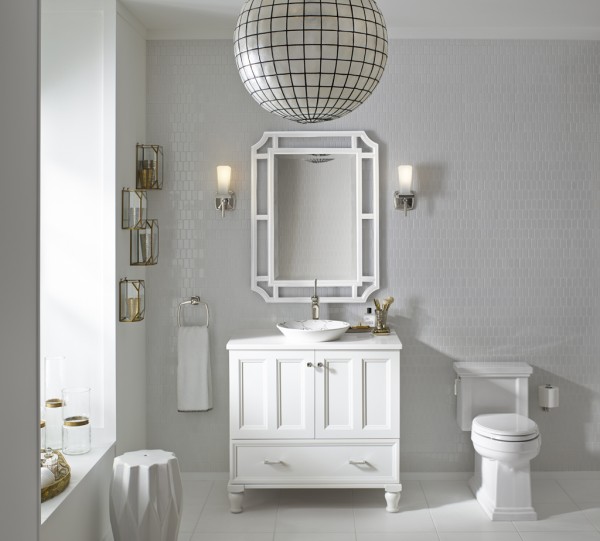 If you are thinking of renovating or remodeling your bathroom, why not keep it clean and stick to white? The latest remodeling trend in Southwest Florida is for the clean, crisp, coastal look and nothing so bespeaks simplicity and serenity as an all-white palette. Here are some suggestions from Kohler to help your renovation benefit from a whiter shade of pale:
Bring the bling: Adding gleaming metallic accents to an all-white bath is a great way to infuse glamour and sparkle. As with fashion, an easy way to get the look is with accessories—in this case mixing the silvery faucet and light sconces with glints of gold in the glass cages, all against a brilliant white backdrop. A boldly framed mirror and an intricately patterned sink inspired by Moorish style create a focal point that ties the elements of the room together beautifully.
Go beachy: Blend white shades for a casual, tropical vibe that's just right for relaxing. A marble floor feels cool on sun-warmed toes and can extend up the wall for a clean look with visual texture. Add spa-like luxury with a freestanding tub and a programmable, personalized shower and you can skip the day spa in favor of your own perfectly private space.
Think traditional: Bronze faucets add warmth and softness to a classic vanity and will look great if you choose strong Craftsman-style crown molding in your renovation. A room with several shades of white captures and reflects light in a unique way. Bright and refreshing in daylight, it glows with warmth at dusk.
Be practical: Rinse off the sand under a rainhead, body sprays or a handshower, all controlled by a shower system you can program exactly to your liking and choose split marble for texture or NYC subway-inspired white tiles to keep your palette pale.
Mix it up: Blend a variety of materials to keep an all-white room from looking sterile. Sleek and shiny white tiles look softer next to a painted wood vanity. For a subtle yet striking decorative touch that's far from fussy, opt for a vessel-style sink with a decorative design that integrates metallic details.
Add extra interest: Make use of low-key Asian influences that don't compete with ta patterned sink, like a bamboo-style mirror and shoji-screen lighting.
Go big: In floor plans with ample space and budget, we're seeing an increase in the overall size of a shower plus a separate bath for long soaks. Big showers don't skimp on water experiences, including rainheads, showerheads, body sprays and steam to deliver a pampering spa experience. In a sleek, contemporary white bathroom, this already large shower looks even more expansive and open.
Other tricks to try: Use mirrors that span the width of the walls to maximize an all-white room's spacious feel. A wall-hung vanity, with no legs or toe kicks to disrupt the floor-to-wall space, creates the illusion of expansiveness. Soften a modern, all-white room with wood flooring in a light shade, a simple wooden chair, and a rug made from organic material.
White doesn't have to be a boring choice. Let the designers at Cornerstone Builders work with you to create an all-white bathroom remodel that dazzles. Call us today for a free estimate.