Adding A Conservatory
Oct 09, 2015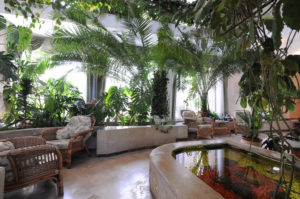 Isn't it silly to consider a remodeling project where you add a conservatory to your home? Isn't a renovation adding a sunroom redundant when we live in Paradise?
The answer is "no".
While our weather here is often spectacular—windy and balmy—in the summertime, it can get very hot and humid or rain like a monsoon. Why restrict your time appreciating nature to those moments when it is perfect weather outside, when both you and your plants can do so inside, in a climate-controlled environment? Such a place can be yours as a renovation project and it is one remodel of your home sure to add value to you while you live there and to the resale price when you sell.
Conservatories can be built along the back or side of your existing home during a remodel, depending on the topography of your site. Or you can have one built separately from your house, giving you an extra special retreat. Sometimes even a den or library can be converted to meet your needs.
Your conservatory can serve as a larger window to the world on rainy or cold days, act as the perfect hothouse environment to grow those dwarf fruit trees, serve as an indoor garden where you can grow seedlings for next year's garden without worrying about the wind, rain or occasional frost, or even provide the perfect atmosphere for your prize winning orchids.
Determining what uses you have for the room will help the designer create a space that is perfect for you.
If you are just using it as an "outdoor room" indoors, you may only need tall windows and skylights, though be sure to talk to your remodeler about the type of glass to use. You will need hurricane-safe glass, of course, and the glass should also be glazed to prevent you from burning in the Florida sun.
If you wish to grow seedlings or fruit trees, consider making the floor concrete with drains in it so that you can install irrigation for your plants. Also add temperature and humidity controls and remote-controlled windows, skylights and dormers to regulate moisture in the room.
You will need special lighting (grow-lights would make your job easier and your yield more "fruitful") and don't forget long tables, indoor storage of pots, dirt and supplies and outdoor furniture for you and your guests to enjoy your new conservatory.
For that orchid collection, investigate getting automatic shutters for the glass and windows in the conservatory. Southwest Florida's bright sun can prove to be too much for delicate orchids, but, since you control the atmosphere in the room, you can decide how much shade you provide.
French doors always seem to be a popular choice when remodeling and adding a conservatory. Add some out to your outdoor deck or lanai, so you and guests can step out and admire your outdoor garden and hardscape. You may wish to have the remodeling company build a small ante room (with a double set of French doors) so your indoor plants don't suffer from a sudden influx of air of a different temperature. A strong ceiling-installed fan can blow air out the door and away from the conservatory. This will also help deter outdoor pests, like mosquitos and wasps, from coming into your conservatory. You will also want the doors leading into the conservatory from the rest of your home to be French doors as well, so that every time you walk by, you can have a glimpse of your lovely garden or special retreat. Either is sure to help make your day a calm and peaceful one.
We, at Cornerstone Builders of Southwest Florida, are happy to help plan your conservatory. With decades of experience in remodeling and renovation, we are the best choice to realize your vision. Please call us today. Our talented designers will come out and give you a free estimate.