Adding An Indoor Fireplace
Oct 12, 2015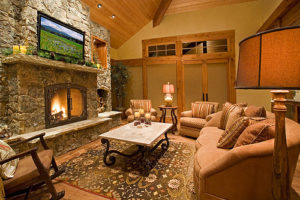 Many transplanted Southwest Floridians have memories of gathering around the fireplace from their childhood up North and would like to replicate that feeling by adding a fireplace as part of their remodeling or renovation project. With cooler nights soon to be upon us, we at Cornerstone Builders of Southwest Florida would like to give you a glimpse of what is involved.
If your home already has a fireplace, we can do a remodel of that, making it look completely different and saving you money. A prefabricated choice is the least expensive, or you may choose to change the style, materials and size for more money (but better resale value.)
Our designers will be happy to show you a selection of different architectural fireplace styles and discuss with you how proportion should affect your choice. Also, you can talk about whether you'd like a traditional or contemporary style. You will want to learn about the different types of lumber that may be used, as well as styles of moldings and pilasters (columns) that are available. You will also want to think about the type of brick, stone or even tile for the fireplace facing.
Your remodeling company will know all about the local building codes and how far from the firebox flammable materials such as wood must be, but there are some general standards from the National Fire Association: There must be a least 6 inches between the sides and top of the firebox opening and any wood that projects up to 1.5 inches from the face of the fireplace. Any wood that projects more than 1.5 inches from the face of the fireplace, such as a mantel or pilasters, must be at least 12 inches from the opening of the firebox.
You may want to choose from a wide array of pre-fabricated mantels and fireplaces to save time and money, as well as pre-made panels for the fireplace surround. These panels are made of stone that has been cut to a thickness of ½ inch to 3 inches. These thin pieces of stone are then attached to a backing and sold in panels.
Or, you may want to haunt some estate sales and renovation suppliers to find a used or antique mantel. Be sure to check with your remodeling company first to get the proper size. You don't want the heartbreak of falling in love with a mantel only to find it won't fit in the space available.
If you want to add a fireplace to a room and you don't want to lose space in a room on the second floor to a chimney, you might want to consider installing a direct-vent gas fireplace. This type of fireplace does not need a chimney because it vents through the wall at the back of the fireplace. A fireplace surround is built–actually a wood framed opening with two side pieces, usually covered in decorative stone when the fireplace is in. A "thimble" or direct opening to the outside of the house is used. This means the gas fireplace can be used anywhere, in a corner of a bedroom, on a second story, even in a bathroom. A 110 electric outlet is set in the back to the opening. Then a gas pipe is connected (either natural gas or propane) and a two layered pipe to let the exhaust out and cold combustible air in. Since the pipe never heats, insulation is thin (necessitating a smaller opening to the exterior) and fire damage is lessened. A gas fireplace (a lightweight unit ) is then pushed into the opening—just like any other appliance. The cord is connected to the electricity. The stone facing attached with adhesive and the gas is turned on. With the flick of a remote controlled button, the flame can go higher or lower, a built in thermostat allows you to set the temperature and it even has a timer in case you want to go to bed. Since no chimney is required, the expense is much less and no need for a damper means no heat is escaping up the chimney.
A fireplace can warm a room, calm a mind and be a great investment to add value to your home. If you are considering this or any remodeling or renovation project, large or small, please think of Cornerstone Builders of Southwest Florida and give us a call today.