Adding A Motorcourt
Sep 17, 2015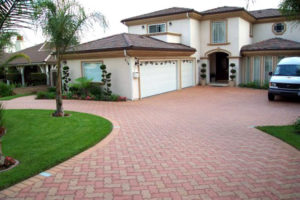 Remodeling your home to include a motorcourt is one of the most dramatic ways to up the curb appeal, but it also can add much to your quality of life.
Before considering such a renovation, lets clear up a misconception: A motorcourt is not the same as a driveway. Sure, it is a special area for vehicle parking, but it is also a sophisticated hardscape that contributes both form and function to your home. It becomes part of your home and provides a stylish transition from one space to another.
Practically speaking, it provides extra parking—a must if you have more than one or two vehicles or if you entertain often. Also, if you have "toys" like a motorcycle, Segway, or golf cart, a motorcourt will let you keep them out of your garage and ready to play.
Traditional motorcourts are usually round or square, but accommodating the Tuscan architectural style of many SW Florida homes, the motorcourt can flow in a stylized pattern, have set paths for three or more cars right into your multi-vehicle garage or take on the shape of an enclosing courtyard. The geometry is based on the architectural style of the home.
In most instances the motorcourt is built right in front of the home, at the front door and acting a driveway itself, though other entry doors onto the motorcourt might make sense. If you have enough space, building the motorcourt around to a side kitchen door is a good idea or you might want it to reach around and connect to a garden/pool area to keep maintenance vehicles away from the front of your house.
Creating a motorcourt is making another dramatic space for your family and guests to enjoy. As they set foot on the motorcourt, they transition from the outdoor world to the serene ambience of your home. A motorcourt, in this instance, acts as part of a grand entryway. But motorcourts may have an even more practical application. By building a covered entryway adjacent to the motorcourt, you avoid the vagaries of weather—not only for guests, but for those rainy afternoons you just want to get the groceries inside.
Pavers are usually used to cover the motorcourt and may be as subtle as tonal colors that complement the colors of your architecture or as elaborate as your initials, family crest or a mosaic picture set out in contrasting stone. Hardscaping also plays a big part in a motorcourt. You may create an entry garden adjacent to the court or use water features, fountains, landscape lighting and custom patio design to enhance the beauty of your motorcourt. Seat walls, trellises, sculptured hedges and flowering trees can also add drama.
If you are considering such a renovation or remodeling any part of your home, call Cornerstone Builders first. Our talented designers will be happy to come on-site and offer you their suggestions and a free estimate to renovate and create a practical and beautiful motorcourt for your home.