Bathroom Sink Ideas for Your Remodel
Apr 25, 2013
If you're looking to remodel your guest or master bathroom, you already know that there are is a plethora of decisions that need to be made. From tile to cabinets to countertops, remodeling a bathroom can be a long process.
At Cornerstone, we've done bathroom remodels of all kinds – from tub and shower replacement to a complete bathroom renovation, we've seen it all! Our expert designers know all there is to know about options for your bathroom remodel. Here, we'll list off some ideas for one of the biggest parts of your bathroom: the bathroom sink.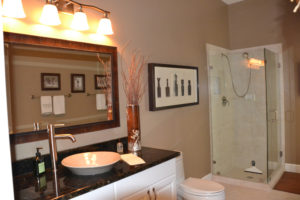 Option #1: Vessel Sinks
Vessel sinks, or above-counter sinks, are bathroom sinks that sit on top of the bathroom countertop. These types of sinks have been spotted in high-end, luxury restaurants and spas and are a good choice if you're looking to make a bold statement in your bathroom. These sinks add a touch of chicness to any sized bathroom. However, a word of caution for those with children: given that the vessel sink lies on top of the counter, it may be prone to chips and damage if not treated with care.
Option #2: Pedestal Sinks
If you're going for more of a vintage, old-school look, a pedestal sink may be a great option. Since this sink combines the sink with the countertop, it will take up less space and can be an ideal option for smaller bathrooms. However, there is no storage space with the sink. Luckily, there are plenty of creative storage options to go with! If you're looking for a sink to fit a smaller bathroom with a vintage flair, the pedestal sink is your answer!
Option #3: Self-Rimming Sinks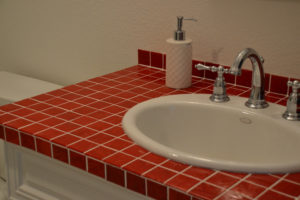 Self-rimming sinks are one of the most popular options and are thought to be one of the most practical options for bathroom remodels. Often installed within the bathroom countertop, these sinks are durable and hard to damage. However, if the sink is poorly installed, it may impact the life of both the sink and the countertop.
Bathroom Sink Installation in Fort Myers, Naples, and All of Southwest Florida
Luckily, when you choose Cornerstone Builders of Southwest Florida for your bathroom remodeling and sink installation needs, you can rest assured that things will be properly installed the first time. While most bathroom contractors do the job quickly, we take our time to ensure that each aspect of your bathroom remodel is properly handled. Whether you're looking to replace an old sink with an updated vessel sink or want an entire bathroom renovation, we can help! Our #1 goal throughout the company is to be sure that each and every customer is WOWed with their finished bathroom. With Cornerstone, you receive a free in-home consultation and pay ZERO DEPOSIT to start your bathroom remodel.
Are you ready for your new bathroom sink? Contact us today and we can help you get started!