Custom Closet Design: Create a Closet That Will Fit You Like a Glove
Apr 24, 2013
We've all seen the plastic wired shelving in closets here in Southwest Florida. Throughout the years, these shelves have been the go-to solution for closet storage, but you may find that your closet just isn't cutting it anymore. You've got clothes, shoes, and any other items you can think of strewn about. Now, are you ready to have a custom closet built just for you?
Better Storage, Better Organization
The main reason most customers approach us to design their new closet is not that they're running out of storage space (although that is part of the reason), but it's that they're looking for a custom-designed closet made specifically for them and their needs. And that's exactly what we provide at Cornerstone.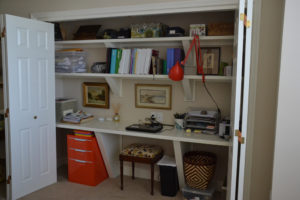 Your Dream Closet
We've seen it all when it comes to closet remodeling and custom design. Whether you're looking to better utilize a smaller space (possibly turning it into mini office) or to expand and create a closet with boutique flair, we will listen to your needs and design a closet to fit you like a glove.
"Will You Help Me Design My Closet?"
If you're unsure of what you want your closet to look like, have no fear! Simply explain to us the problems you want to solve and we can provide you with a solution from there. If you've got a few ideas, we can work with those as well. No matter what your needs, we want to be sure that you get exactly what you're looking for and that you are 100% satisfied with the entire process.
Custom Closet Design in Fort Myers, Naples, and All of Southwest Florida
Cornerstone Builders of Southwest Florida has been providing custom home remodeling solutions to Lee and Collier Counties since 1988. In our 25 years of experience, we've remodeled thousands of homes including kitchens, bathrooms, closets, and more! We employ our own plumbers, drywallers, painters, and more. Also, with us, you pay ZERO DEPOSIT to get started and get a lifetime material warranty on all products we manufacture for as long as you own your home.
When you choose Cornerstone for your custom closet design, you can be sure that one of our designers will listen to your needs and create a closet that is sure to work for you. We don't seek to provide a "one-size-fits-all closet" we seek to provide you with a custom closet design to serve you and your needs. We want you to be WOWed by our work and we won't settle for anything less!
Ready to get started with your perfect dream closet? Contact us today!