Changing Showers & Tubs
Dec 07, 2015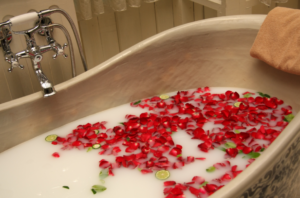 Bathtubs and showers used to be overlooked when it came to remodeling. A tub was a tub was a tub and a shower was just a box in the corner. Now, though, these once utilitarian fixtures are often the focal point of a very personalized bathroom. There are some things to keep in mind when planning a bath remodeling project or a whole house renovation that includes one or more bathrooms.
Cornerstone Builders, as your chosen remodelers, know some things about construction, which might not be visible after the renovation, but are vital to making sure it is a quality job. Normal showers need just 1/2-inch pipes to function, but waterlines of that size won't supply enough pressure for those high-end fixtures, you may have your heart set upon, which need 3/4-inch pipes to operate properly.
You might also want to take this time to switch out the cold and hot water valves. This isn't a matter of just switching the faucets and trim for ones you think are more attractive. Valves aren't one size fits all and since they are universal, the new ones you've chosen probably won't fit where the old ones fit. Even if they did, it's still a good idea to install a new valve during the remodeling so that it will wear at the same time as the new ones. No need to have to go through this twice. You can save money, time and aggravation by having us replace everything at the same time.
While you are in the replacing mood, one of the best investments you can make is to upgrade to a new water heater. A larger one not only means more hot water, but today's more energy efficient systems practically guarantee you will save money on your utility bills—probably enough to pay for the new heater all together. Consider a tankless water heater, too. Such a model is installed behind the wall of the shower or tub and heats water as it flows right through the heater. Since the water isn't held in a reserve tank, where it has to be heated to stay warm, the tankless model will help you save on energy costs.
Another sign of the times is that is used to be considered the height of luxury to add a whirlpool tub, today you may wish to add the most popular feature to your bathroom renovation—the customized shower. You can choose wall-mounted showerheads (double for the two of you, if the shower is large enough or multiple to aim at different parts of your body), rain heads or rain bars, hand-held showerheads, body sprays or even a steam shower. Consider your shower a vertical spa.
Bathtubs now come in about any color, shape, color and size you can imagine and in several materials from which you can choose:
Gel-coated fiberglass: These lightweight models are great for rooms where adding extra support to the floor isn't an option. They are also inexpensive, but take care as they do scratch easily.
Cast iron: These tubs will require extra support, as they are heavier than other types of tubs. They are, however, very durable (which is why you see antique claw foot versions in bed-and-breakfasts everywhere.) Enamel-coated, these provide a classic look to your room.
Cultured marble: These tubs cost less than cast iron, but more than acrylics (they take after the acrylics in that they are easily scratched).
Acrylic: Reinforced with fiberglass, the acrylic used her is crack and chip resistant and can be repaired if it gets damaged.
Water jets and air jets: We didn't say they went out of fashion entirely. If you need to climb into some relaxing bubbles after a hard day, these are the tubs for you. Just make sure that the jets can be adjusted to fit your particular body.
Color and scent changing: It's called chromatherapy, where the color of the water changes to suit a mood and there are tubs with this option. You may also get some that dispense different scents of your choosing to get the benefits of aromatherapy.
At Cornerstone Builders, our remodelers will take you on a showroom visit so you sit in the tubs and stand in the showers to make sure the one you choose will fit you perfectly. If you are considering a bathroom remodeling or a whole house renovation, please visit https://cornerstonebuildersswfl.com first.