Creating A Gourmet Kitchen
Dec 08, 2015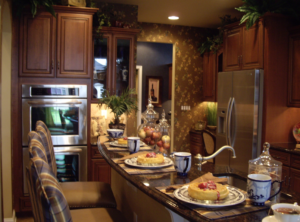 Whether you are a trained chef or just a food show junkie, in the upcoming renovation you are planning, you deserve a gourmet kitchen. Here are some things to consider and discuss with Cornerstone Builders when planning such a kitchen renovation:
Review how you use your kitchen now and how you plan to use it. We all have to make concessions if we inherited someone else's kitchen, but if you are having your kitchen remodeled, the only thing you truly need to worry about is space. Otherwise, the sky is the limit. So if you've only been able to feed a dinner party of four and now want to be able to host a feast for 40, include it in your plans. Keep your thoughts on performance and how you want your kitchen to help you do what you have always wanted a kitchen to do.
Ask yourself some questions:
Are you a baker, and if so, what special appliances do you require? (Keep in mind, chefs and bakers need different features in a kitchen.)
What special cookware do you own and use often?
Do you need space to store wine?
What kind of dishes do you prepare?
How many people cook at one time?
Do you prefer to prep food and clean dishes in the same or different spaces?
Do you also entertain in the kitchen or do guests sit/mingle somewhere else in the home?
What appliances need to be accessible every day? What items do you use infrequently?
What groceries do you always keep on hand?
Things to consider adding during your kitchen remodeling project:
Double oven: What a treat! Finally, room for everything to cook at once. If you are considering two ovens, make one of them convection, with a fan that circulates hot air so food cooks efficiently.
Warming drawer: Once everything is cooked, wouldn't it be nice if all the food stayed hot, but not dried out? Or could avoid getting mushy in a microwave?
Dishwasher drawer: If you entertain a lot, a point-of-use dishwasher near a bar sink will make managing all that glassware much easier and lets you save the main dishwasher for cleaning dishes, pots and pans.
Convection microwave: Such a microwave can act as another place to reheat food—always useful during those big family dinner or if you are entertaining.
Microwave drawer: Instead of having a microwave take up counter or cabinet space, this microwave drawer gets concealed among the base cabinets—there where you want it; out of the way when you don't.
Professional range: Get gas if possible (so the professional chefs say) but you should also check out induction cooktops, too. They heat quickly and deliver heat evenly to the pans. Check into built-in griddles and other accessories.
Counter-depth refrigerator: These look built-in and sleek. Or try a French door style refrigerator that lets you access what's on either side of the refrigerator with less clearance. Also a separate freezer and refrigerator is usually on a professional chef's list, but if that's not feasible, go for a dual-compressor unit (produce will also stay more moist in these.)
Task lighting: Go for pendants overhead and under-cabinet lights to help you see in specific workspaces where prepping, cooking and even cleanup happen.
Easy clean surfaces: Consider quartz counters, as they don't require sealing and are less porous than natural stone.
Our experienced kitchen remodelers will be able to suggest other items to help assure your kitchen-remodeling project creates a kitchen in which even a professional would be proud to cook. Visit Cornerstone Builders to arrange for us to come give you a free consultation on your remodeling project.