Choosing A Dishwasher
Dec 09, 2015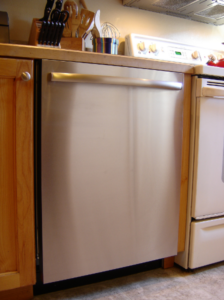 Whether you are getting ready for the mountain of dishes holiday entertaining brings or asking Santa for a dishwasher to go with your kitchen remodeling in the New Year, here are some things you need to know to get the very best:
A dishwasher is one of the most used appliances in the kitchen. Research also shows that most dishwashers are used 10 years or more, so they should be considered a long-term investment.
Be aware that there are five main types of dishwashers. There is the built-in, which is the most common. Compact dishwashers work in homes with small kitchen spaces. To solve specific needs, there are also tall tub dishwashers, produce drawer dishwashers and portable ones that roll away when not in use. If you are remodeling a galley kitchen, the roll away may suit you perfectly.
When buying a dishwasher make sure the appliance has different cycles, durable and adaptable parts, several sensors, an energy saving design and low noise levels.
With global climate change such a timely problem, you should definitely consider buying an Energy Star dishwasher, which can save a lot of money for you and takes it easy on the environment. If an appliance has Energy Star badge, it means it uses 41% less electricity than normal products. It may also have local rebates. Ask your Cornerstone Builders remodeler to check.
Cycles on a dishwasher are a time-saver and can create almost a custom appliance suited exactly to your needs. If you use only normal pots, pans and dishes, make sure the appliance you choose has pot/pan cleaning cycle. You may also need to make use of the fine china and glassware settings over the holidays or if you entertain often. Perhaps sanitation is a high priority for you so rinse and hold, which gets rid of the bacteria, without detergent, while the dishes await washing is an option to check. Another useful cycle is the delay cycle, which lets you run dishes after a party, late at night or after everyone has showered.
When it comes to sensors, your dishwasher should save energy and give you great end results. You want a dishwasher that has soil level, detergent, water and temperature settings.
Here are some top rated dishwashers from the experts:
Bosch SHP65T55UC 500 Dishwasher
Bosch appliances often get the top rating and are worth the extra money they cost. This stainless steel fully integrated dishwasher will cut water and energy consumption and can handle 16 place settings. It has 5 wash cycles, an info light to show where you are in a cycle and AquaStop patented technology to stop leaks. This dishwasher offers durability, efficiency and energy-saving features, which are not to be found on any other brand.
Bosch SHE65T55UC 500 Dishwasher
Less expensive than the Bosch dishwasher above, this one may fit your remodeling needs even better. This one eliminates bacteria better than any other, due to special technology. It is also very quiet and has a special feature that speeds up drying. This model also has an Energy Star rating, meaning it saves energy and money and it also will never leak or spill.
Frigidaire FFBD1821MS Dishwasher
The dishwasher you choose also should be easy to use and last a long time. This 18-inch dishwasher by Frigidaire is both user-friendly and durable. It has the capacity to handle 8 place settings in one cycle and has a stainless steel interior which means it will not scratch or deteriorate easily. A special drying technology (which doesn't use heat, so it saves electricity) will be easy on your wallet. The gentle cycle is great for china and it allows for an up to 4-hour delay before running.
If a quiet machine is what you are looking for, this GE model may be the one for you. It has 6 different wash cycles with 7 different options from which to choose. It also has three different levels, perfect for when you use every dish at a holiday party. It is, however, 24 inches so it requires you make a little room in your remodeling plans.
No matter what those remodeling plans are, whether you are in need of a kitchen or bath remodeling or a whole house renovation, call the experts at Cornerstone Builders. We will be happy to come give you a free estimate. Call 239-332-3020 today.