Choosing The Right Gas Grill
Sep 23, 2015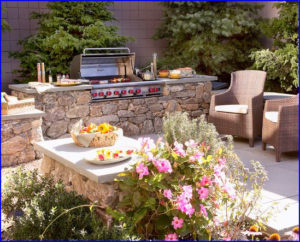 You are planning to have Cornerstone Builders renovate your home by putting in a deck or even an outdoor kitchen and it has come time to decide on the type of grill to buy. It is not as easy a decision as buying a blender and it's not even about price. You can buy a discount store grill for around $150 or go hog wild and opt for a Kalamazoo Hybrid Freestanding Grill which boats a 33" x 22" grilling surface and the ad for which shows whole logs being used for the wood-burning portion. That grill comes in at a none-too-economical $16K. It all depends on the type of grilling you are doing, for whom, how often, what types of food you cook and, of course, your renovation budget. But budget isn't everything, so here are some tips for finding the perfect gas grill before you begin the remodeling project.
How much room do you have?
When making plans with the remodeling company, make sure to mention the type of grill for which you need to make space to the designer in charge of the renovation. He or she will put it and any other appliances in the remodeling plan.
How big a grill do you need?
Put away the testosterone and realize bigger isn't always better. True, bigger grills are more stable, but wider is not always better—sometimes it really is just wider and remember, the more grill, the more to clean. A good rule of thumb is to get a grill with a surface that fits only the foods you will regularly be cooking for your family and friends—no larger.
What type of fuel do you want?
Natural gas is a good fuel option requiring you to run a dedicated line from your house to the grill. Be aware that cheaper grills, under $300, won't accommodate this option, but it may cost you less than the propane that appears to be cheaper at first. You can outfit your propane grill with a natural gas conversion kit, but then it will only take natural gas, so choose one or the other. If you choose propane, always have a spare tank on hand and think about carefully storing the canisters.
How are you going to use it?
Consider how much food and of what type you cook most often. While it is great to have all the fancy accouterments, like a separate steamer or fish basket, if you are more of a beer and brats type of family, all that extra stuff really won't encourage you to cook different foods. You will very probably use it once, and never again. However, a warming drawer and double decker grill surface, where you can hold foods off the heat while other things are cooking, is probably a good idea. Also, a probe thermometer to test the doneness of your meat will make you and your guest happier campers.
Mind your BTUs
This measurement (BTU or British Thermal Unit) reflects a grill's gas usage and heating potential. More BTUs don't guarantee faster preheating or better cooking times. But there are some numbers to look for. For a standard gas grill, look for about 80 to 100 BTUs per square inch, and 60 to 80 for an infrared grill that uses radiant heat.
Efficiency is important
This efficiency boils down to the grill's quality. The best grills, whether expensive or thrifty, will use stainless steel or cast aluminum throughout; lid seals will fit tight; and the grill grates and lid will stand up to heat, and keep the BTUs in. A good grill will have small vents to let a controlled amount of air flow through the grill, holding in heat so it heats up quickly to a high temperature. Spend some money to get good quality, look for a comprehensive warranty and get and use a grill cover to protect your investment.
Now that you know what to look for in a gas grill, call Cornerstone Builders today to get started on the outdoor deck or kitchen remodeling or a bath, indoor or indoor kitchen renovation. We give free estimates and know you will be pleased with our work when you are outside under the stars with good food and good friends. Call today.