What To Know About Pavers
Sep 21, 2015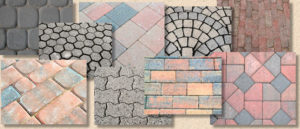 When it comes to renovating or remodeling your property, nothing makes such a statement about the outside of your home than the use of pavers. From patios and pool decks to driveways, motorcourts, walkways and edging, pavers make your space look finished and elegant. Beautiful and durable, pavers come in a variety of materials, shapes, styles and colors and add their weight in gold to a hardscaping renovation.
Here are some things you should know about pavers when considering a remodeling project:
Types of pavers
Concrete, brick and natural stone are the three basic types of paver materials. Concrete ones are a manufactured type, so color is introduced during the manufacturing process, resulting in a rainbow of strong, bright colors, resistant to fading, even in the hot Florida sun. The pavers are interlocking which makes them great for side-by-side applications to separate your lawn from your garden or to make a low wall to be used for a raised bed. Concrete, as well as clay brick pavers, can make intricate designs on your patio or walkway and tie your whole hardscaping together.
Paving brick is strong and stain-resistant. Brick offers timeless appeal when used on pathways and patios.
Limestone is used as an edging material (it resists harsh weather) and may never need replacement.
Natural stone pavers like flagstone and fieldstone are the most expensive (and some say attractive) type. Natural stone may be used in patios, walkways, edging and paths and bricks may be used in the same way.
Precast concrete pavers are uniform in size and you should use 3-inch wide or larger pavers for pathways.
Cracking
You needn't worry about cracking, as the sand between the pavers usually eliminates this problem, but if you experience it, it is often easier to replace the paver itself than to try to repair the crack. Your remodeling company can order a small selection of the pavers you choose so that you may keep them on hand to use in the future for repairs.
Size
Your remodeling company will measure your vehicles and allow enough space around the doors for people to enter and exit when renovating a driveway and will choose durable concrete pavers to cover the surface. Their uniform size helps make planning and measurement precise for your renovators.
Maintenance
Most pavers are maintenance-free, though you should ask your remodelers if you should do more than sweep. Perhaps you may need to pressure clean or even seal every few years to minimize staining and increase longevity for some pavers. You should avoid getting oil or grease on your pavers (be careful around that barbeque). To avoid efflorescence (white streaks), don't use calcium chloride deicers on brick driveways. To clean brick, use water and a small bit of detergent to wash away grime. For most pavers, wash only with a substance of ten parts water to one part vinegar.
From digging up an old driveway to creating a whole new and beautiful paved one, when it comes to remodeling or renovation, look to Cornerstone Builders. We will come on site to give you a free estimate for your remodeling project. Please call us today.