Different Types of Bathroom Vanities
Jan 24, 2014
Your bathroom is one of the most used places in your home. It's where you spend time to get ready for each day and where you may like to relax at the end of a long one. With the amount of time spent in the bath area of your home, it's important to make sure that it's the perfect fit for you.
Bathroom vanities continue to be a popular feature among homeowners. It allows for a formal prep space, as well as adds a nice touch to any master bath. From modern bathroom vanities to small bathroom vanities, we're here to give an overview of the different types and help you on the way to choosing the perfect bathroom vanity for your master or guest bath.
Contemporary Bathroom Vanities
This style of vanity gives your bathroom a modern/contemporary feel. One material used to make the contemporary bathroom vanities is glass. Typically, they are made of high-end glass that is very durable and resistant and also contain plenty of storage space, including drawers, shelves, and more.
Antique Bathroom Vanities
While antique often means "old," it doesn't necessarily apply this way to bathroom vanities. When homeowners request antique bathroom vanities, they often are looking for antique and classic bathroom vanity styles.
Double Bathroom Vanities
Double bathroom vanities are very popular among those who need to share a master bath. Typically, these vanities sit on opposite ends of the bathroom countertop. This allows for two people to get ready at the same time (or simply allow for more space!).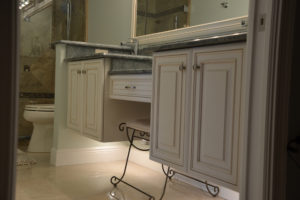 When it comes to selecting one of these vanities it can be difficult, but with our staff, we can assure you that we can help you choose the best vanity for your bathroom's décor and give it the right style that it needs.
Bathroom Vanity Installation in Fort Myers, Estero, Naples
Cornerstone Builders of SWFL is the area's number one resource for all home remodeling needs. We have 25 years of experience in home remodeling, including bath remodeling, tile installation, shower & bath installation, and more. If you're looking for the perfect bathroom vanity, we can help!
We offer a free in-home consultation to all clients, as well as no deposit to start. Our expert designers will visit your home to help recommend the perfect type of bathroom vanity – whether your taste is modern contemporary or class, we can help you choose the perfect vanity.
If you're ready to transform your bathroom, contact us here today. We look forward to hearing from you and are excited to help you with your new vanity decision!