Kitchen Island Plans: Choosing the Right Island for Your Kitchen
Jan 20, 2014
Kitchen islands are a popular feature among many homeowners looking to remodel their kitchens. The amount of benefits kitchen islands offer (extra seating, more storage, ample counter space) proves to be a wise investment. In addition, kitchen islands always add a bit of style to any kitchen. As with any remodeled item in your kitchen, choosing the perfect kitchen island requires a bit of thinking and decision-making.
Which Island is Best for Your Kitchen?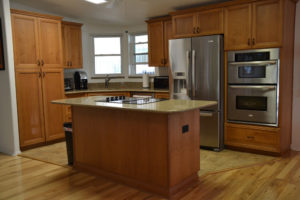 Your kitchen is the hub of your home. For most families, the kitchen is the most used room the home and has the most traffic. When choosing a kitchen island, you will want to choose one that draws attention to the eye and that gives you the most functionality.
Also, it's important to take the size of your kitchen into consideration when choosing a kitchen island. If you have a smaller kitchen, it would not be wise to place a large, cumbersome kitchen island in the midst of it. If you have a larger kitchen, you are able to choose from a wider variety of kitchen islands.
Kitchen Island Styles
Functionality is important, but as we all know, style is just as important. According to Better Homes & Gardens, there are a few different kitchen island styles to choose from.
Built-in kitchen islands are the typical islands you see. Often placed in the center of a kitchen, built-in islands allow for extra storage space (for those pesky pots and pans), extra counter space, extra seating room, and extra style. These kitchen islands are the most popular among homeowners today.
As the name entails, a small-space kitchen island is perfect for smaller kitchens. While not as big as the built-in kitchen islands, small-space kitchen islands allow smaller kitchens more storage space, while not clogging up the entire kitchen. Another great kitchen island option is the mobile cart kitchen island. These are typically inexpensive and can be easily moved.
Fort Myers, Naples Custom Kitchen Islands
Cornerstone Builders is Southwest Florida's number one resource for kitchen and remodeling. From entire home renovations to kitchen island design and improvement, we seek to provide top-quality work that will WOW you and your guests. We offer free in-home consultations and require NO DEPOSIT to a remodeling project of any size.
If you're struggling with deciding on a kitchen island, we can help! Our team of experts is there to help from the initial in-home consultation to the final project finish. We like to think of your home as our own home, and we want only to WOW you with our quality of work.
Would you like to learn more about kitchen island options for your home or get started on your kitchen remodel? Contact us today! We look forward to hearing from you!