Kitchen Tile Ideas & Options: Ceramic Tile
Jan 15, 2014
When it comes to choosing new kitchen tile for your home, there are many different types of tile to go with. With the amount of colors, sizes, styles, and materials to choose from, you're likely never going to have the same exact tile as another home. One of the most popular materials used for kitchens is ceramic tile.
Ceramic tile comes in a variety of styles in colors, giving a different feel and style to every home it's in. With such a broad range of ceramic tile to choose from, it can become overwhelming to choose just one. At Cornerstone, we want to be helpful in any way possible. Here, we'll give an overview of the different types of ceramic tiles and what to look for in them.
Different Ceramic Tile Types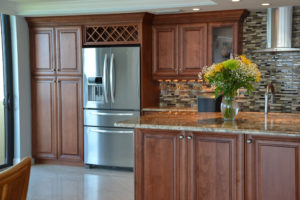 Ceramic floor tiles come in 3 types: glazed, unglazed, and porcelain. Each type has its own advantages and disadvantages. Glazed ceramic tiles are coated with a glass-forming mineral and typically have a ceramic stain. Also, glazed ceramic tile can either be a matte, semi-gloss, or high-gloss finish. High-gloss finished tiles tend to be more slippery and scratches are visible. However, matte ceramic tiles help with traction and also allow scratches to be hidden.
Unglazed ceramic tiles are very hard and dense. They are very durable, however, require to be sealed throughout the tile's life. Porcelain tiles are the most durable of all. The porcelain material can withstand all temperatures and are often used for outdoor patios and pool decks.
Ceramic Tile Sizes
Ceramic tiles also can be made into a variety of different square sizes – from one to twenty-four inch squares. Oftentimes, they are priced by the amount of square footage needed. If you're unsure about the perfectly sized tile for your kitchen, contact Cornerstone and we'll be happy to help with our free in-home consultation!
Need Ceramic Tile Installation in Southwest Florida?
Here at Cornerstone Kitchens, we do tile work of all varieties. Our licensed installers will ensure that you're taken care of throughout the entire project from the initial in-home consultation to the final product. We want you and your guests to say WOW when we're done with your new ceramic tile floor!
We offer free in-home consultations and require NOdeposit to start your new tile floor. In addition, we offer a lifetime material warranty on all products we manufacture for as long as you own your home.
Contact us today to schedule your free in-home consultation!