Common Bath Remodel Questions
Jan 09, 2014
Bathroom remodeling is no easy task. There are a few obstacles to overcome, specifically referring to proper plumbing and tile installation throughout. We've got 25 years of experience in the home, kitchen, and bath remodeling industries in Southwest Florida, so we've seen our share of questions. Here, we're going to provide common questions and answers about bathroom remodeling.
Question #1: How Long Does a Bathroom Remodel Take?
Typically, a bathroom remodel should be completed in two to three weeks' time. However, if you're installing a new shower door, this may add on one to two weeks. We do our very best to be as efficient as possible, all while ensuring that the work is complete and properly done. It's important to be cautious when dealing with a bath remodeling company that promises quick turnaround. Oftentimes, this means that corners are being cut and the work is not top-quality.
Question #2: What Should I Do With My Bathroom Tub?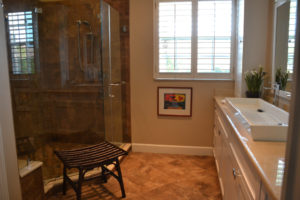 We are often asked our opinion on having a tub in the master bathroom of your home. This is one piece of the master bathroom that many homeowners don't use. While it may make sense to eliminate the tub altogether, it's important for home resale value to have at least one tub in your home. However, that one tub does not need to be in your master bathroom.
Question #3: Can You Just Lay New Tile Over My Old Tile?
At Cornerstone, we never install tile over other tile. Whether we're dealing with tile floors or tile showers, it's very important to lay new tile on top of a solid foundation. If the old tile has not been properly installed or is not level, your new tile may become cracked and damaged. The reason we do not install new tile over old tile is because we want our clients to enjoy their bathrooms for years to come and not just for a short time before the damage begins.
Question #4: Will You Help Me Choose Bathroom Fixtures, Cabinets, Etc.?
We walk our clients through every step of the bath remodel process. When it comes to choosing fixtures, tile, and other features of your bathroom, we will show you pictures of past projects and provide our professional opinion should you ask for it.
We've been serving Southwest Florida's bathroom remodeling needs for 25 years and have provided to over 16,000 local residents (and counting). We want our customers and their guests to be WOWed by our work for years and years.
Contact us today to schedule your free in-home consultation!