Keeping Your Things Organized With A Custom Closet
Dec 04, 2013
Our closets have become a place of storage for those things we just can't part with, but seem to have no daily use for. Because of this, our closets have turned into a giant, unorganized mess. Are you tired of having an unorganized closet and want to make it work better for you? At Cornerstone, we provide custom closet design and will help you design a beautiful, functional closet for your bedroom.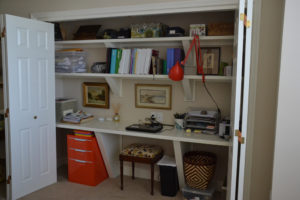 In Southwest Florida, many homes come equipped with the typical white-wire shelving. With the humidity we see here, these wire shelves can rot and lose their durability. We can transform your closet into anything you want – maybe a customized dressing room to resemble your favorite boutique or even a new workspace. Whatever closet design you have in mind, we can make it work.
Steps in Custom Closet Design
The first step in custom closet design and remodel is to determine what your goal is for this space. Do you need more storage space? Do you need a larger closet – one where you can walk in and move freely? Once you've determined the use for your remodeled closet, you can contact Cornerstone for a FREE in-home consultation. In addition, we require no deposit to start your closet remodel project.
One of our expert staff members will visit your home, review your current closet, and assess your needs and wants. Our clients' needs are top-priority. Our design is based on your needs and personal taste – we want you to be 100% satisfied with the work we complete and enjoy your new closet for years to come.
With 25 years of experience and 16,000 local SWFL residents served, we're certain that we have the skills, staff, and expertise necessary to provide you with a custom closet that will WOW you for years to come.
Custom Closet Design in Naples, Fort Myers, and SWFL
Cornerstone Builders is Southwest Florida's number one resource for home remodeling. From entire home renovations to custom closet remodeling and design, we seek to provide top-quality work that will WOW you and your guests. We offer free in-home consultations and require NO DEPOSIT to a remodeling project of any size. In addition, we offer a lifetime material warranty on all products we manufacture for as long as you own your home.
At Cornerstone, we like to think of your home as our home and we want to WOW you with our quality of work. If you're ready to transform your closet, contact us here today. We look forward to hearing from you!