From Tile to Hardwood: Flooring Options for Your Home
Nov 29, 2013
Luckily, there are many different flooring options for your home when it comes time to remodel. Carpet, tile, and hardwood – these options provide versatility for different preferences and uses. In general, there are three basic types of floors most common in homes nowadays: carpet, hardwood, and tile.
When choosing the flooring to install in your home, it's important to take durability into account. If you're a family with small children, you may want to opt for a floor with higher durability. If you're a family of empty nesters, then something that's less durable may be optimal. Here, we'll review the three types of common home flooring and give the pros and cons of each.
Hardwood Flooring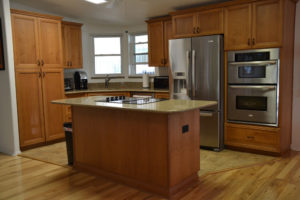 Hardwood flooring is a popular choice among homeowners, this being due to its natural look and feel. Hardwood floors are traditional and give your home a timeless touch of class. Also, hardwood flooring tends to be pretty durable, but will require some upkeep if your home is busy. One downfall of hardwood flooring is its cost. Since it's made from natural trees, it's material and installation often costs significantly more than other flooring options.
Carpet
Carpet is typically the most popular choice among home remodelers. If cared for properly, carpet can retain its newly installed look for decades to come. Some benefits of having carpet in your home is that it muffles noises, it's easy to clean, and there are tons of colors to choose from. However, it's important to keep your family's lifestyle in mind, too. Do you have pets? Do you leave your shoes on inside your home? These factors will have an affect on your carpet and how often it needs to be maintained.
Tile Flooring
Tile is a great option for home remodelers. With its versatility in style and color, homeowners have a wide variety to choose from. Tile is also very durable and is extremely easy to clean. Again, this also depends on the lifestyle of your family.
What Floor Should I Choose?
When choosing a floor for your home remodel, there are many things that should be taken into consideration, and it could become overwhelming, but don't worry because Cornerstone is here to help you make a decision!
Floor Installation in Naples & Fort Myers
Cornerstone Builders of Southwest Florida has been providing home remodeling and flooring installation locally for 25 years. With over 16,000 clients served, we've helped people turn their remodeling dreams into reality. We will help you choose the best flooring for your home and will provide guidance each step of the way.
From our free in-home consultation until project completion, we'll be there for you. When you work with Cornerstone, you're sure to receive top-quality remodeling services in SW Florida.
If you're ready to get started on a new floor, contact Cornerstone today!