Introducing the Steam Convection Oven
Nov 11, 2015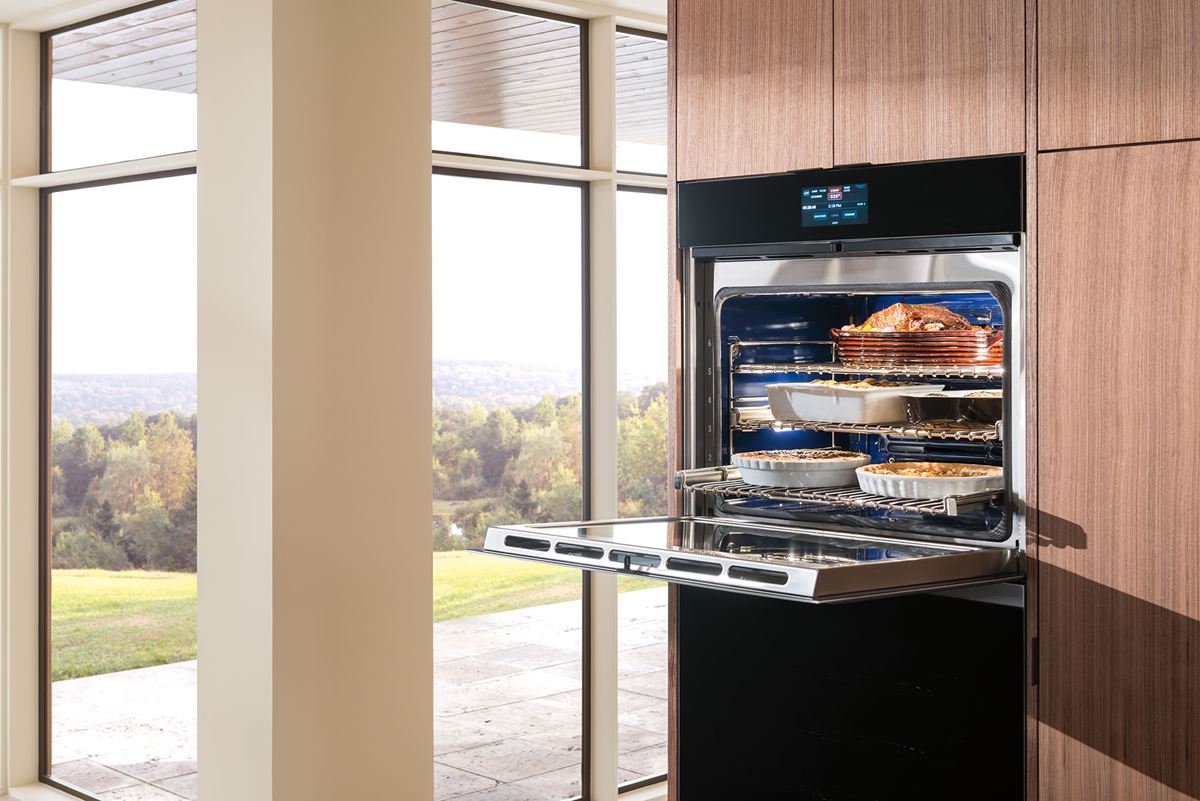 When remodeling a kitchen, one of a cook's greatest joys is installing the appliances he or she has always wanted. So let's share some happy news for anyone undertaking a kitchen renovation, from one of the world's most prestigious appliance manufacturer: SubZero/Wolf. The company has just introduced their M Series convection steam oven and it is a game-changer in any kitchen remodeling project.
It is said by users that the new M Series makes impossible dishes easy to cook. "It's almost supernatural," according to the company. The oven's unique digital technology senses the amount and size of the food, and automatically adjusts all the details of cooking. Then, by choosing the cooking mode and combining steam and convention modes, the cook can cook the ideal dish in his or her newly remodeled kitchen.
One suggested dish to test this theory is that the oven can make profiteroles: filo-wrapped ice cream. The hot, delicate, crispy-brown pastry surrounds ice cream that I still firmly frozen! That sort of thing is impossible for any other oven and a great dessert to serve when you invite your friends over to see your newly remodeled kitchen.
The oven also works much better than microwave or conventional ovens when it comes to reheating foods. From rice dishes to pizza to fine cuts of meat, you'll be astonished at the flavor and appearance. Even bread several days old becomes bakery fresh again. When leftovers taste fresh and delicious, you'll waste less food.
It also allows the cook to cut way back on the use of oils and butter in preparing foods, making your newly remodeled kitchen a healthier place.
The high-performance oven is heir to SubZero/Wolf's pioneering L series. The M series built-in ovens introduce advanced Dual VertiCross™ convection for the most consistent cooking of any oven, and 10 cooking modes that control heat and airflow so every dish comes out exactly the way it should. Both single and double ovens come in contemporary, transitional or professional styles to fit any kitchen beautifully.
Dual convection gets a powerful upgrade in this oven. Turn on an M series oven, and the advanced Dual VertiCross™ convection system quickly saturates the cavity with even, consistent heat. Two corner column fans with parallel vertical heating elements work in concert, providing just the right heat and airflow for any dish. No need to adjust racks or rotate pans, whether you're baking three dozen cookies or preparing lamb, new potatoes and Wisconsin mac and cheese all at the same time. Memorable meals – food that is crispy, gooey, flaky, or savory –are practically assured.
The M Series has three striking new looks that will fit your newly remodeled kitchen décor. No matter which style you choose for your renovation– traditional, modern or somewhere in between–there's an M series design that will work beautifully with your décor.
Contemporary with its minimalist handle less design, black glass and color LCD touch panel, the M series has a look sleek enough for even the most visionary kitchen. Professional is bold, confident and eminently functional, with the classic pairing of iconic Wolf red control knobs and gleaming stainless steel. Transitional, with its stainless frame and black glass, enhances almost any type of kitchen. Whichever look you choose, you'll enjoy the advanced performance that has made SubZero/Wolf the choice of discriminating cooks for almost 80 years.
Here, as an inducement to make the investment in a SubZero/Wolf convention oven, is a classic recipe, reinvented just for this wonderful new appliance, keeping the pasta al dente and the cheese melty, not gluey:
Classic Manicotti Ingredients:

1 medium eggplant, peeled, finely diced

1 red pepper finely diced


1/4 cup olive oil


1 small onion, finely diced

4 cloves garlic, peeled and minced

1 tablespoon salt
 Freshly ground black pepper


1 tablespoon dried basil

1 (28-ounce) can Italian tomato puree or tomato sauce

1 (28-ounce) can Italian crushed tomatoes

1 (8-ounce) box manicotti shells

2 cups shredded mozzarella cheese, divided

1 (15-ounce) container whole milk ricotta cheese

1/2 cup grated Parmesan cheese

1/2 cup basil pesto, optional


1/4 cup fresh parsley, chopped


2 large eggs, slightly beaten.

Salt and pepper to taste
Preparation:
To Make the Sauce: 
In a large saucepan, over high heat on Wolf range top, sauté eggplant and red pepper in olive oil, stirring occasionally, until the eggplant is very soft. Add onion, garlic, salt and black pepper. Cook until onion is soft. Add basil and all tomatoes to the pan. Reduce heat to low and gently simmer for half an hour, stirring occasionally. To Make the Pasta: 
In large stockpot over high heat on Wolf range top, bring 6 quarts salted water to a boil. Add pasta and boil for 5 minutes or until al dente. Drain and rinse under cold water. Set aside.
To Make the Filling: 
Reserve 1 cup mozzarella cheese. Combine all remaining ingredients. Place mixture into a pastry bag with no tip and pipe mixture into the cooked and cooled manicotti shells. Coat the bottom of 13×9-inch baking pan with olive oil. Place about two-thirds of sauce on bottom. Lay filled manicotti on top of the sauce. Pour remaining sauce on top of manicotti. Top with reserved mozzarella cheese. Cover with foil and place in oven. Bake 50 minutes. Remove pan from oven and remove foil. Change cooking mode to BROIL 1. Place pan in oven and broil about 5 minutes or until the cheese is golden brown. Serve immediately. Makes 6 to 8 servings.
When you are considering a kitchen remodel or any renovation in your home, please call Cornerstone Builders. We will be happy to visit and give you a free estimate on your renovation project.