Kitchen Backsplash Ideas| Ceramic Tile Backsplash
May 02, 2016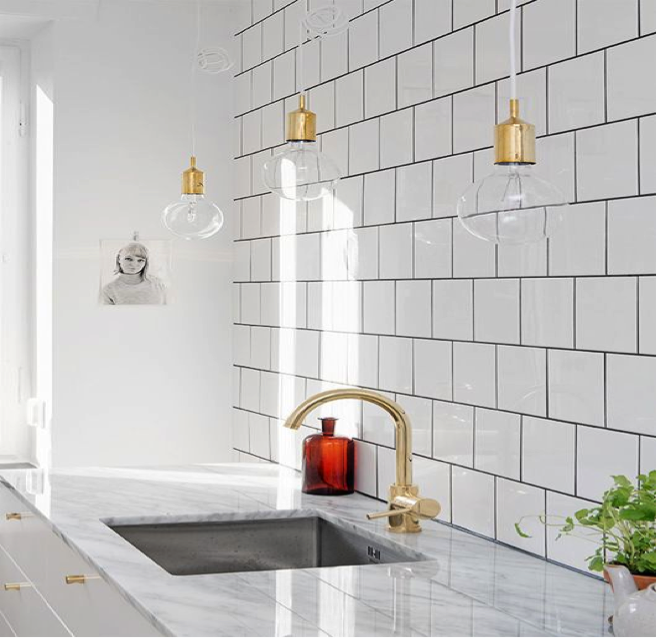 Ceramic Tile Backsplash
A kitchen backsplash is one of the most important design elements in a kitchen; it's a focal point. Focal points create visual interest to a space, adding to your kitchen's unique look. According to HGTV, ceramic tile backsplash are typically the most common type found in homes. Ceramic tile is durable, cheap, easy to install and comes in an almost infinite range of styles, colors and textures. The design options are endless!
The reason why you can find ceramic tile in the majority of homes is because it's customizable. Ceramic tile comes in a variety of styles, colors, shapes and sizes.
What is Ceramic Tile?
Ceramic tile is just clay that is formed, glazed and baked. Ceramic tiles were once made by hand; now the majority of ceramic tile today goes through a process known as dry pressing or dust pressing. Read the following article: How is Ceramic Tile Made, to gather more information on ceramic tile.
Ceramic Tile Maintenance
Ceramic tile requires minimal maintenance; a major benefit is that it is extremely easy to clean. If you spend the majority of your time in a kitchen this is an important quality. Ceramic tiles are non-porous, which makes them resistant to stains and scratches. However, ceramic tile is brittle making it more likely to chip.
Considering a Ceramic Tile Backsplash in Southwest Florida?
If you've got a vision of your perfect kitchen, your home remodeling contractor can help you turn that vision into reality. At Cornerstone, we understand the amount of planning that goes into any kitchen remodel. From small kitchen updates to a complete kitchen remodel, we're here to help. With over 16,000 Southwest Florida clients and 26 years in business, we know how to plan for a kitchen remodel and will do our very best to avoid any potential headaches along the way. Interested in a ceramic tile backsplash? Contact us today!