Kitchen Backsplash Ideas| Mosaic Tile Backsplash
May 09, 2014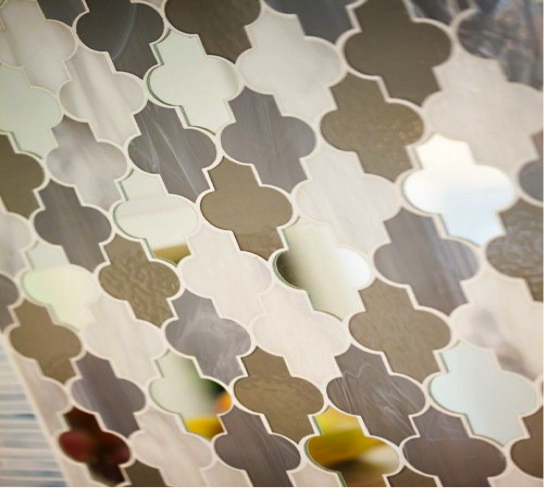 Mosaic Tile Backsplash
Mosaic tile is a visually diverse backsplash, with a wide range of colors, materials and patterns to choose from. Mosaic tile is a classic style that is popular in all types of kitchen designs. If you want a real eye-catcher that adds interest in your kitchen, opt for a mosaic tile backsplash. With mosaic tile, a homeowner can choose from a variety of designs that suit oneself. Also, mosaic tile gives off a stylish finish that makes a space pop. The best part of a mosaic tile backsplash is that it allows for the homeowner to unleash their artistic creativity.
Adding mosaic tile to a kitchen is one of the easiest ways to upgrade an ancient, tired kitchen. Nothing packs more style into a space than mosaic tile. Installation of mosaic is relatively fast and easy too!
Types of Mosaic Tile
According to HGTV, ceramic and synthetics will be the cheapest materials; glass, stone and other natural materials will be more expensive.
Glass
Ceramic
Granite
Stone
Mosaic Tile Maintenance
Mosaic tile requires minimal maintenance to keep it looking great for years to come. Mosaic tiles are often featured in kitchen designs considering they can withstand heavy use and moisture.
Considering a Mosaic Tile Backsplash in Southwest Florida?
If you've got a vision of your perfect kitchen, your home remodeling contractor can help you turn that vision into reality. At Cornerstone, we understand the amount of planning that goes into any kitchen remodel. From small kitchen updates to a complete kitchen remodel, we're here to help. With over 16,000 Southwest Florida clients and 26 years in business, we know how to plan for a kitchen remodel and will do our very best to avoid any potential headaches along the way. Interested in a mosaic tile backsplash? Contact us today!