Kitchen Backsplash Ideas| Glass Tiles
May 08, 2014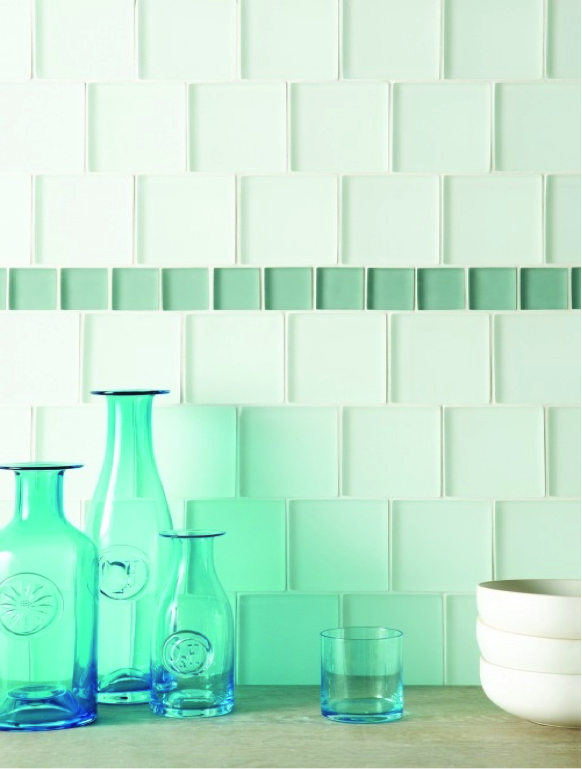 Glass Tiles
A very attractive tile option that adds not only elegance, but also a unique visual aesthetic is glass tile. Glass tiles are a great way to add color to a kitchen. The picture above shows the use of multiple colors, which adds more of a visual interest to the space. You can find just about every color of the color wheel in glass tiles. Glass tiles have become one of the most popular backsplash choices amongst homeowners lately, according to Better Homes and Gardens.
Glass tile is fairly inexpensive (yet more expensive than ceramic), and extremely attractive. If you are thinking about choosing glass for your kitchen backsplash, we applaud you for being quite stylish. Glass comes in multiple styles (beyond the typical rectangular shape) and designs, making it easy to design around your current kitchen pieces. A major benefit of glass tiles is that they reflect plenty of light, making your kitchen appear larger.
Types of Glass Tiles
Frosted glass
Clear glass
Sparkling glass
Colored glass
Textured glass
Glass Tile Maintenance
Glass tile is by far one of the easiest types to care for. Glass tile stands up well to the dirt and grime that can accumulate in a kitchen. To keep your investment looking its best, free from grease and other kitchen dirt, wash them with warm water and a mild dishwashing soap. To polish between cleanings, use any glass cleaner. Although glass tiles are fairly durable, they are more prone to scratches.
Glass Tile Backsplash in Southwest, Florida
If you've got a vision of your perfect kitchen, your home remodeling contractor can help you turn that vision into reality. At Cornerstone, we understand the amount of planning that goes into any kitchen remodel. From small kitchen updates to a complete kitchen remodel, we're here to help. With over 16,000 Southwest Florida clients and 26 years in business, we know how to plan for a kitchen remodel and will do our very best to avoid any potential headaches along the way. Interested in a glass tile backsplash for your dream kitchen? Contact us today!