Kitchen Backsplash Ideas| Copper
May 06, 2014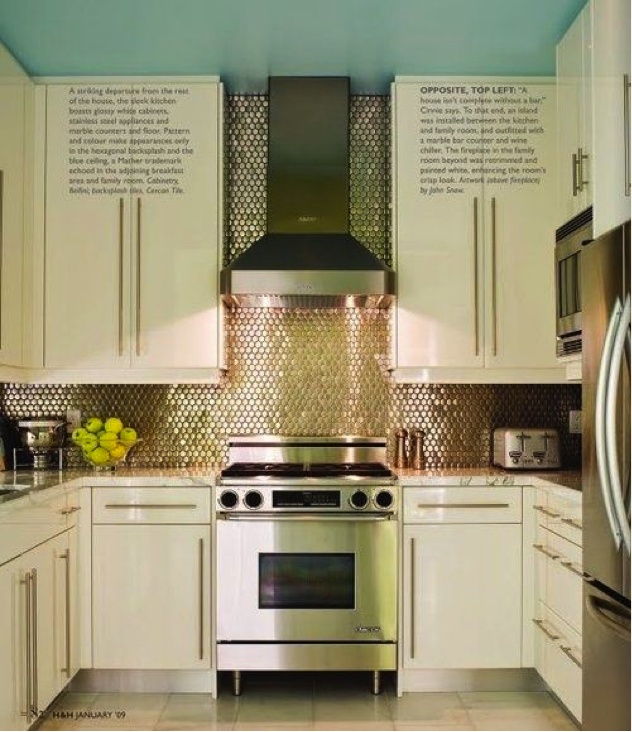 If you are looking for something visually interesting, yet very durable for your kitchen backsplash, copper is a great design choice. Give your kitchen a classic appeal; copper can add a unique and elegant design element to any space. For design inspiration click on the picture above!
What is Copper?
Copper is a red-brown metal. It is considered man's oldest metal, dating back more than 10,000 years. Copper is also one of the only metals other than gold that has a natural color. (http://copperalliance.org/history-of-copper)
Copper is considered a weak metal, although it's not easy to break due to its high toughness. According to HGTV, Copper is also considered one of the softer metals; it can be easily manipulated into many patterns and designs.
Interesting copper facts from www.copperalliance.org:
Copper is a chemical element with the symbol Cu. Atomic Number: 29. Atomic Weight: 63.546 amu.
The statue of Liberty is clad in 62,000 pounds of copper
Copper comes from the Latin word Cuprum, meaning "from the island of Cyprus."
Copper is a vital and positive contributor to humankind and has improved our quality of life for centuries.
Copper it vital to the health of humans, animals and plants and an essential part of the human diet. Copper-rich foods include dried beans, almonds, broccoli, chocolate, garlic, soybeans, peas, whole-wheat products, and seafood.
Copper Backsplash Ideas:
Copper backsplash designs are available in a wide range of colors, textures, and patterns. Because copper is a softer metal, you can easily mold copper to fit your design style. To learn about the many copper design choices out there, visit your local home improvement store.
Flat & Smooth Copper
Copper Penny Backsplash
Hammered Copper Backsplash
Copper Tile Backsplash in Southwest, Florida
If you've got a vision of your perfect kitchen, your home remodeling contractor can help you turn that vision into reality. At Cornerstone, we understand the amount of planning that goes into any kitchen remodel. From small kitchen updates to a complete kitchen remodel, we're here to help. With over 16,000 Southwest Florida clients and 26 years in business, we know how to plan for a kitchen remodel and will do our very best to avoid any potential headaches along the way. Contact us today!