Kitchen Cabinet Designs| Stenciled Kitchen Cabinets
May 16, 2014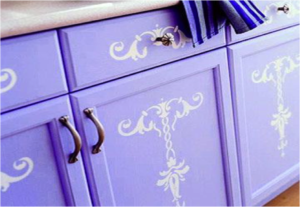 Stenciled Kitchen Cabinets:
If you are wondering how to update your pre-existing cabinetry, within a budget and with minimal effort, try stencils. Pinterest offers so many unique design ideas; one that intrigued us was updating pre-existing cabinets with stencils. Stencils add dimension and creativity to otherwise plain doors/drawers, and the design ideas are endless.
Where do you find stencils?
You can find stencils for kitchen cabinets at any craft store such as:
What do you need?
All you need is a stenciled pattern of your choice, paint, a stencil brush, painter's tape, and something to clean up accidental spills.
What types of patterns are there?
According to HGTV, a busy pattern might not work on a bunch of cabinets; you could stencil a pattern along the top of the cabinets or just the bottom to add some visual interest without overwhelming the room. There are many varieties of patterns!
Kitchen Cabinet Refacing
Another option is to reface your preexisting cabinetry. When cabinets are refaced, the existing doors, drawer fronts, hardware, and hinges are removed. The kitchen cabinet exteriors are sanded and new laminate or veneer is then applied to the cabinet box exteriors before the new doors, drawer fronts, hardware and hinges are installed. Most kitchens can be refaced on one to three days.
Kitchen Cabinet Designs in Southwest Florida
At Cornerstone we encourage creative thinking when undergoing a kitchen remodel. As long as the end result is your perfect dream space, our mission is complete. With Cornerstone, you receive a free in-home consultation and we don't even require a deposit to get your dream project started. Ready to give your kitchen that perfect look? Contact us today!