Remodeling With Stained Glass
Sep 11, 2015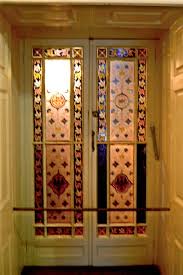 When it came to remodeling or new construction, in the Gilded Age, the Vanderbilts and Carnegies wouldn't be caught dead designing one of their Newport "cottages" or New York mansions without the liberal use of stained glass. Designers like Louis Tiffany and Frank Lloyd Wright created masterpieces of the art and brought them into the home as main elements of the design. Whereas Wright used geometry and straight lines, squares, circles and rectangles to create his glass, Tiffany was more inspired by nature. Trees, vines, flowers and dragonflies were well represented in his work, which featured fluid and draping lines.
While the Gilded Age is gone and most of us can't afford to buy an original Tiffany or Wright design, that doesn't mean that you have to do without the beauty of stained glass in your remodeling project. The versatility of stained glass makes it a perfect choice for your renovation. It can be a simple window, a focal point of a room, a showstopper of a door, warm or cool and as complex as you'd like. But whether you use stained glass in your bathroom remodel or your kitchen renovation or sprinkled throughout your whole home remodeling, be sure and place it where it will catch the light and you can enjoy it both day and night.
The rich colors of stain glass can set the tone for a room. Add warmth with deep oranges, yellows and reds to your living room. Use cool blues and greens to bring some watery beauty to a bath or use Crayola colors to perk up a kid's room or game room. Leaded glass windows with little or no color can be used as an accent or textural piece and even serve as a fascinating valance over a window.
Use two stained glass panels on either side of your solid front door or set within the door itself to add instant interest to your entry. Privacy can be assured in a bathroom by use of strategic stained glass that lets in the light but no prying eyes.
Consider hanging a stained glass panel in the interior of your home to add as a light filled wall between rooms, which will help brighten up a dark room on the other side or use a panel to block an unpleasant view. You can use stained glass panels joined together as screens to help divide a large space also or use them as a fireplace screen. The best use of stained glass is to put it where the sun can shine through it, though you may also want to add an artificial source of light to enjoy at night as well.
When using stained glass to remodel, consider what type of stained glass you are interested in and then check several sources.
Antique stained and leaded glass might be found at antique shops, flea markets, architectural salvage and construction demolition companies. (Remember, antique glass doesn't offer the protection of safety glass, so be sure to consult with us for local code requirements before choosing a salvaged or antique window, door or panel.) You may also choose to hang a salvaged windowpane on a chain, properly mounted by your remodeler, in front of an existing window, saving lots of expense.
Custom-made windows are available from stained glass artisans. Be certain to speak to your remodeling company or renovation firm about exact sizes needed or before making window frames and openings to fit the glass you already have purchased or brought from another property.
Other options include ready-made windows that pop in an opening, like those from stainedglassinc.com (starting at $80 per foot) or even a film that may be applied to existing windows to create the illusion of stained glass.
However you plan to incorporate the look of stained glass into your remodeling or renovation project, be sure to speak to us at Cornerstone Builders before you buy any expensive glass. We will be happy to work with you to make sure that the stained glass fits well and is perfectly incorporated into your remodeling or renovation. Call us today.