Custom Closets
Sep 10, 2015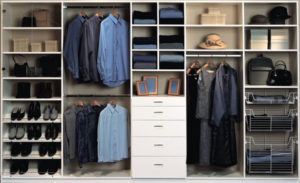 Your remodeling project may not include an assembly line that, at the push of a button, displays hundreds of pairs of shoes, one at a time, like Celine Dion had built in her Florida home, but it might be nice to be able to hang winter and summer separately and easily find your neckties. If your renovation is to finally have room for all your stuff, a custom closet may be just what you need.
Working closely with your remodeling or renovation company is very important to successful closet design, but you will need to have lots of information in order to create the perfect storage space. "Know thyself" is key.
So first, take stock of what is in your existing closet. Is it all clothes, shoes, and accessories? Or are you storing linens and towels in there too? (If so, consider having another linen closet installed while you are remodeling.)
Throw away or–better still–donate anything you haven't used or worn in a year (be strong) and take inventory of the rest. Perhaps some clothes should be hung in closed bags with cedar and mothballs and only one season clothing should be "displayed". You may also want to take coats, hats and rain boots out of your master bedroom closet renovation plans and hang them in the hall closet.
Now rehang everything and measure how much space you currently have. Add at least 10% to it to establish the smallest size for your new closet. Remember you may want to add hangers and more space is always good, so go for the biggest closet you can fit into your remodeling plans. Big closets –especially walk-in closets" mean extra money at resale time.
Carefully consider shelving. Measure your tallest heels and highest boots. Figure the width of that huge beloved purse (and maybe even luggage?) Remember to allow room for hatboxes and those dozens of pairs of shoes. Make certain the shelves aren't too deep (just another place for things to get lost in the back of your new closet) and you might want to stash small items in cubbies. Angled shelves work well for shoes. Plan for frequently used items to be displayed in front.
Utilize wall space. Pegs, racks, and hooks are some people's idea of an organizational dream. You may want to make room for actual cabinetry in your closet and have your jewelry laid out in drawers or your ties, socks, and hankies folded and able to be pulled out from drawers set with soundless hinges. Remember rods and racks do not have to go across the whole closet width. Make rods of different lengths and heights to accommodate only dress shirts or long gowns.
If you have space, you may even want to include a vanity or island where you can sit while dressing (or doing your makeup), so you want to consider lighting. Recessed lighting may do for the clothes portion, but you will want more direct lighting installed to use a vanity. Consider having the lighting turn itself on and off as you open the doors to save energy.
With a place for everything and everything in its place, including a custom closet in your remodeling plans is a great idea and sure to add to your sense of comfort in your home. Let Cornerstone Builders help make your renovation dreams come true. Call us today.