Adding A Deck
Sep 09, 2015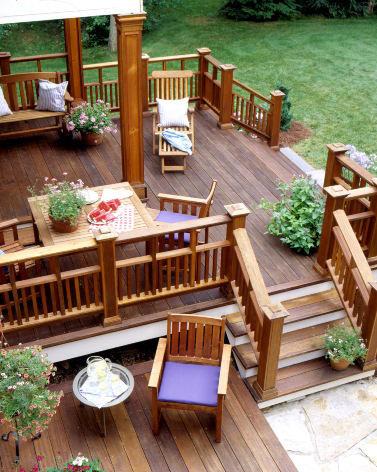 Part of living in Paradise is the ability to enjoy the Great Outdoors at every opportunity, so for your next remodeling or renovation project, consider adding a deck.
First you need to establish if your property has a good space to use to add a deck. Call Cornerstone Builders and we will be happy to come out, check the site, and give you a free consultation before beginning any renovation.
Here's what you need to know about decks:
Decks are made of wood or composite material decking boards. This platform can be put on sloped areas where you want a flat area or atop a basement or even can be built up on stilts to make a platform deck (actually anywhere 14 inches or higher off the ground is considered a platform deck. If you raise your deck 9 feet or so, talk to us about converting the space underneath as dry storage.). You may even want to build a deck directly off your lanai.
Multiple level decks are popular in Southwest Florida, not only for visual interest, but because each level can be used for a different purpose. One part of the deck can act as the location for your outdoor kitchen grill. Another can offer a small space for sunbathing (with ornamental plantings for privacy). Still another can act as dining area or outdoor living room and perhaps another level can host a hot tub. Depending on your budget, you may want to include a water feature or a fire pit, too.
Think about what uses you will have for your deck. Do you do a lot of entertaining? Are there many seniors around (be careful to mark the transition from level-to-level carefully.) How about kids? Treads on a deck can act as a safety feature for the little ones and anyone a bit unsteady on their feet. Do you need handicapped accessibility to the deck for anyone wheelchair-bound? Is the deck going to be used mostly for you and your partner? Or are you planning on hosting dinner for 10? Or the weekly poker game? (Consider access to your kitchen and/or your bar in these last two instances.)
How important is privacy? Think about using fencing (even sound baffling fencing if you plan on getting rowdy) as well as trees, bushes and hedges to screen your neighbors' views. Lattice fencing can be decorated with climbing vines providing beauty, fragrance and privacy all at the same time.
Think how you will access your deck from your house. If you have a door already where you would like to step out on the deck, great. If not, an opening will need to be made, (remember that will cost a bit extra, but since you are going for it anyway, why not make it wide and visually appealing—like a wall of glass to show off your new deck?) Try to eliminate the use of steps going from the house to the deck. You will get tired of climbing them.
Set off different areas of your deck not only with levels, furnishings and outdoor rugs, but lighting as well. Lampposts, hanging lanterns, wired "fairy" lights, up-lit trees and shrubs, as well as walkway lights and well-lit steps between levels will make your deck both more hospitable and safer.
If you live in a place with a community association, there may be a restriction on the type of material from which your deck may be built. Wood is the traditional choice, but it needs regular maintenance–staining or repainting and sealing in order to live through Southwest Florida's extreme weather. Composite board, once considered too plastic looking, is gaining in popularity. No maintenance is required and the material is warranted for 20-25 years. It is more expensive than wood, but, unlike wood, can be cleaned with just some mild detergent and a hose.
Should your deck have a ceiling? You will probably want at least part of your deck shaded, whether that is with a partial roof (don't forget to install lighting and ceiling fans to extend the comfort of your new outdoor space) or large colorful umbrellas. You can even go as elaborate as retractable awnings or a complete screened-in room. For the parts of your deck left open to the sky, consider installing misters for hot days, built-in citronella torches for mosquitos and warming lights for the cool nights we get even here in Paradise.
When it comes to remodeling, renovation of your whole home, bath, kitchen or outdoor area remodeling—like adding a deck–think of Cornerstone Builders first. We have the experience to make your remodeling project a success.