The Pros & Cons of Granite Kitchen Countertops
Nov 15, 2013
When choosing a material for new kitchen countertops, granite is a popular choice among many homeowners. It continues to be one of the more popular countertop selections among our own clients, and we're often asked for advice on this choice. With so many options, we thought it'd be helpful to put together a simple list about the pros and cons of granite kitchen countertops.
The Pros of Granite Kitchen Countertops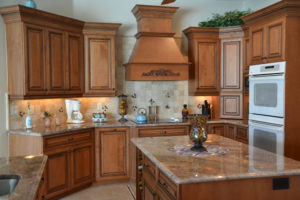 The first (and often most referred to) benefit of granite kitchen countertops is the uniqueness of each countertop. With the way the stone settles, each piece of granite looks different than the other, this gives you a kitchen that is really one-of-a-kind! In addition, each piece is unique therefore; you're guaranteed to find something perfect for your tastes.
Another benefit of granite kitchen countertops is its durability. Granite is a strong material, which allows it to resist scratches, stains, dings, heat, and a variety of things that are sure to go wrong. Since granite countertops are extremely durable and attractive, they add value to your home upon resale.
The Cons of Granite Kitchen Countertops
As with most things, while there are benefits to having granite kitchen countertops, there are also a few drawbacks. Like most other stone countertops, granite countertops need to be sealed annually to remain impervious to stains and spills. In addition, the material is heavier than other countertops, which will require a sturdier cabinetry.
Cornerstone Builders Helps You Choose The Perfect Countertop
If you're still in the decision-making process as far as your kitchen countertop selection goes, Cornerstone Builders of SWFL can help you choose the perfect kitchen countertop. We've helped over 16,000 Fort Myers, Naples, and SWFL residents to remodel their kitchens, bathrooms, and entire homes.
We provide countertop installation throughout all of Southwest Florida. One of our expert remodeling team members will visit your home and complete a free in-home consultation. Whether you've got the perfect kitchen countertop material in your mind or need more guidance, Cornerstone will ensure that you're left with a beautiful kitchen countertop that will leave you and your guests saying "WOW!"
Once you've chosen your perfect kitchen countertop, we require no deposit to begin your kitchen countertop installation. If you're ready to begin your new kitchen countertop installation, contact us today and we'll be more than happy to get the opportunity to wow you!