Looking for Bathroom Remodeling Ideas?
Nov 18, 2013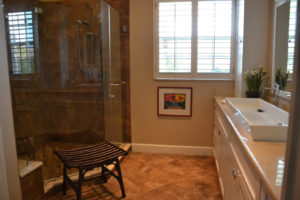 Remodeling any bathroom in your home is a wise investment. If installed and taken care of properly, it can add huge value to your home when it's time for resale. Choosing the right bathroom remodel idea can also have an impact; if you choose a feature or functionality that is highly sought-after, this will have a positive impact on resale value.
When it comes to bathroom remodels, we always our clients to be WOWed by the end result. Our clients' satisfaction is our priority and we want your bathroom remodel you be perfect both now and upon resale time down the road. Here, we're going to expand on a quick list detailing some of today's top bathroom remodeling trends and help you on the way to the perfect choice for your home.
Trend #1: Adding More Natural Light
Small windows above the shower area are slowly fading and homeowners are options for larger windows to let in more natural light. Rather than bathrooms being a place of routine, they are now becoming an area of sanctuary. Options for letting more natural light in are adding in larger windows or skylights.
Trend #2: Additional Vanities
Traditionally, there is one vanity in a bathroom. Nowadays, however, having two vanities is very popular. Two vanities allow each person in a two-person bathroom to have his or her own storage and prep space. Adding one more vanity can be very attractive for your home's future homeowners should you sell sometime in the future.
Trend #3: Larger Showers
Many homeowners today are opting for larger showers and removing the tub area entirely. In addition to showers becoming larger, they are also containing much more glass for an open, airy space. Oftentimes, homeowners are going for this option to go for more of a spa-like feel.
Bathroom Remodeler in Fort Myers & Naples
When you're making any big change to your bathroom, calling in the professionals may be the best option to ensure that you're getting the biggest value. Our plumbers and bathroom remodelers are the best of the best and our main goal is to WOW our customers with the finished product.
Cornerstone Builders of Southwest Florida has 25 years of experience in home remodeling and we have helped over 16,00 customers remodel their kitchens, bathrooms, and entire homes. We require no deposit to start your bathroom remodel and you will receive a free in-home consultation.
If you're ready to start with your bathroom remodel, contact us today!