Why Choose Laminate Flooring?
Oct 21, 2015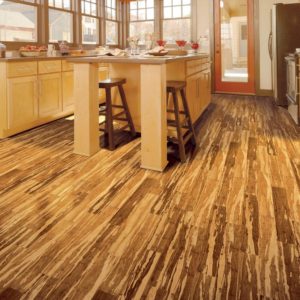 If your remodeling or renovation project requires new flooring in one or more of your rooms, you might be considering whether to choose hardwood or laminate flooring.
While no one would dispute the beauty of hardwood, if you are trying to keep your remodeling project within a tight budget or you just want a floor that not only looks good, but is easy to care for and durable, you should consider laminate flooring.
Here's what you need to know:
Laminate flooring has four layers. The wear layer is filled with aluminate oxide to resist scratching tears and damage from usage. The décor layer is what you see on the top that gives the laminate its look. This may be a tile or stone design or even a faux hardwood. The core layer is what gives the flooring its bulk (and a bit more cushioning). The final backing layer is what gives the flooring its stability. These four layers make laminate flooring surprisingly tough and scratch-resistant (something not true of hardwood) and it still looks beautiful.
Such durability may make the choice for you. Not only is it scratch and dent-resistant, it doesn't stain easily. Go ahead and spill that glass of red wine at the party to celebrate the completion of your renovation project. It will wipe right up…and you can't say that about carpeting. Laminate flooring also won't fray at the seams and edges and laminate usually lasts between 20-30 years in the average home.
Laminate flooring is tops in ease of care, too. The laminate flooring you have put in during your remodeling project will shine for years if you follow these steps:
Vacuum or use a dust mop regularly.
Wipe up wet marks and spills immediately.
Clean the floor with a cleaner designed for laminates.
Let your floors dry thoroughly before you step on them.
Use throw rugs or mats at the entrance to every room.
Today's laminate flooring comes in such a selection of colors, styles and patterns, it is no longer used to remodel only high-traffic areas, like kitchens or bathrooms. Consider laminate flooring when you are renovating your man-cave, game room, living room and even bedrooms. Add throw rugs to differentiate the spaces and pat yourself on the back for making a beautiful, durable and economical choice.
At Cornerstone Builders of Southwest Florida, our designers are experts in flooring for your remodeling project. Call us today for a free estimate on your renovation.