Making A Small Bath Bigger
Oct 19, 2015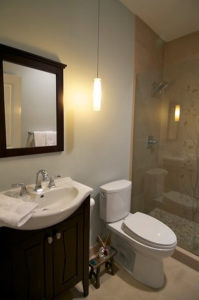 It's renovation time and the first thing you want remodeling is that small bathroom. To finally feel like you are not in a box when you close the door is worth the investment to you and a good remodeling firm, like Cornerstone Builders of Southwest Florida, is here to help.
Here's some ways to make that small bath both feel bigger and actually gain space in the room:
Get things off the floor: Use wall mounted cabinets for more storage space and free up as much floor space as you can.
Clutter, be gone: Take as much as possible off the countertop and stash things in those wall cabinets. Consider off the floor shelves for your towels as opposed to a linen cabinet.
Put mirrors everywhere: Mirrors reflect light and brighten a room and can be set on the front of cabinetry to act both as a visual aid to dressing, but also to help open up the room
Ditch the tub: Tubs take up too much room. Abandon the old-fashioned tub and shower combo and get a shower enclosure with clear glass sides. Or you can get rid of the frosted shower door entirely and use a shower curtain, pulled back most of the time so you may see to the back wall of the room. If your shower backs up to an exterior wall, consider having a row (or whole wall) of glass block to act as a privacy window to the outside. It will bring in natural light.
Lose the door: Installing a pocket door frees up three feet on the inside of your bathroom, since you no longer need to allow a door to swing open. If you really can't lose the door, use the back of it to hang towels to keep them out of the way.
Put in a pedestal sink: The old vanity type cabinet takes up more precious floor space. Replace it with a narrow columned pedestal sink. The flooring will no doubt have to be repaired when this is done.
Choose a light colored floor: Make it a monotone tile in a quiet color and keep the pattern simple. Less visual chaos makes for a larger feel.
Light walls help increase "space": Choose an open, airy design wallpaper with a neutral or yellow or white background, which gives the illusion of more space. Or use floor-to-ceiling wall tiles (large ones) in neutral colors. Light blue or green also helps the walls recede when viewed.
Add molding: You can make the ceiling appear to be taller than it is by having the celling painted a lattice or using molding around the edge of the ceiling. Have the remodeler paint the molding white or paint it the same color as the ceiling. You can also instruct the remodeler to faux paint clouds or stars, using a light color and white.
Add depth to the walls: Have a mural painted on the largest open wall or hang a framed mirror or picture that mimics looking out a window or into a garden. Outdoor visas help enlarge the feeling to the room.
Add a skylight: During the renovation, either expand the size of your bathroom windows (leaving them uncovered if possible) or add a skylight. The more light in a room, the larger it feels.
Put in extra lighting: Have recessed lighting installed into the ceiling and focused on any "workspace" on the vanity. Add wall sconces for warmth. Instead of the blinding Hollywood lighting around the mirror, consider a pull-out lighted makeup and shaving mirror.
Some of these tips require help from an experienced remodeling firm, like Cornerstone Builders of Southwest Florida. We are here to help and happy to send our team to give you a free estimate on your remodeling project. Please call us today.