Kitchen Remodeling: Pantries
Oct 16, 2015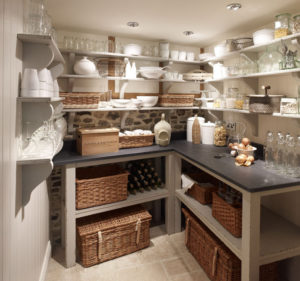 If you are remodeling your kitchen, getting a new pantry may be one of the big reasons you undertook the renovation project. You need more space. According to the National Kitchen and Bath Association (NKBA), space is the number #1 reason homeowners want to remodel their kitchen and if that describes you, you may be dreaming of a bigger pantry.
Adding a pantry is a perfect way to make better use of your existing space without the need to bump out your kitchen walls.
When you meet with your remodeling company, be sure to give them your wish list for your dream panty. Whereas now you may have a small pantry where you store non-perishable food items like cans, oils and those three bottles of ketchup you try to keep on hand, have you considered a place to store food prep items like wax paper and foil, paper bags and even Tupperware (with those pesky lids)? How about space for storage of perishable foods–those used to be housed in a root cellar –like potatoes and other root vegetables? Or perhaps you entertain often but don't need daily access to your extra china, stemware and flatware? Make a list of everything you would like to store out of sight and that can become the pantry wish list you share with your renovation company.
There are many types of pantries from which to choose.
Free Standing Pantry: This is one that the remodeler will secure to the wall stud by screwing it in to keep it from tipping, but, though inexpensive, these tall, narrow units don't hold much nor do they stand up to much use. Typical dimensions for a freestanding pantry might be 24″ x 14″ x 71″. In other words, they are tall and narrow. Stock or
Semi-Custom Kitchen Pantry: These kitchen pantry cabinets come from established cabinet manufacturers like Kraftmaid, Merillat and Armstrong and come in many styles and materials. These pantry units come wide, narrow and with lots of available features. With these, you will find a greater range of pantry units. Wider pantries are available, as well as units with more useful features such as slide-outs, pullouts, and swing-outs.

Butler's Pantry: Butler's pantries can be pass-throughs between the kitchen and dining room or dead-end rooms adjacent to the kitchen. At best, they even can be a mini-kitchen with a sink, small refrigerator, ice maker, storage for food and cooking implements, as well as wine storage, counters for food prep, sinks, or even warming units.
Corridor Kitchen Pantry: These are like small galley kitchens and are usually smaller than a Butler's pantry. These can be as simple as a corridor between kitchen and dining area with added pantry cabinet units, so the pantry is not taking up space in the kitchen itself. Appliances such as stand-mixers, cappuccino machines and rice makers can be stored here to make more room for food prep on the main kitchen counters.
Custom Pantry: Here your imagination, aided by the kitchen designer for your remodeling company, can fly free. Doors in these pantries can pull straight out, side by side with others; walls of shelves can be rolled away to reveal walls of shelves behind the first; trash and recycling containers can be built in; a climate controlled wine refrigerator can be installed; automatic lighting can be instantly illuminated when you open a door…the sky is the limit. A custom design allows you to choose your cabinetry and have it fit your exact plan—whether your panty is walk-in, pull out or a combination of both. One customer of ours even measured her groceries and had shelves and bins built to match them exactly. A place for everything and everything in its place was to be taken literally.
Whatever your needs, for a kitchen remodeling or even a whole house renovation, Cornerstone Builders of Southwest Florida has the experience and expertise to make your vision a reality. Please call us today.