Why Should I Choose Custom Cabinets?
May 09, 2013
Deciding to remodel your kitchen or bathroom is a large process made up of a variety of other smaller decisions. What should my new color scheme be? Should I get new appliances, too? How will I know what will work in my kitchen or bathroom? At Cornerstone, we help our customers make these decisions every day. We listen to your needs and create a plan that's right for you.
One of the more common questions we get asked is whether or not you should choose custom cabinetry – and our answer is always to go with custom cabinets.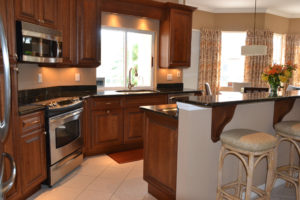 While stock cabinets may be functional enough to get by, they are mass-produced with no thought given to the individual. With stock cabinetry, you are limited to the parameters given by the manufacturer's catalog. In addition, if a stock cabinet arrives to your home damaged or is simple the wrong order entirely, your project will come to a screeching halt until the manufacturer is able to get things sorted out.
A Kitchen That Fits Your Needs
Cornerstone's custom cabinet installation begins first with you. We listen to your needs to create a cabinet that will work for you and your kitchen. We cater to you so your cabinets can use your kitchen or bathroom space in the best way possible. Your cabinets are built just for you to give your kitchen the unique WOW look that you're looking for, while also providing ease-of-use and efficiency for every day use.
Need Help Designing Your Kitchen Cabinets?
Custom cabinetry is the best way to ensure that your kitchen truly is one-of-a-kind. If you know you want to go with custom cabinets but are unsure of the type of cabinets you want, we can help! We have experienced designers that will come to your home, measure the project, and help you design the cabinets you're looking for!
Custom Cabinet Installation in Fort Myers, Naples, and All of Southwest Florida
If you've been considering updating your kitchen or bathroom cabinetry, choose Cornerstone to ensure a custom cabinet solution that will make you say WOW! At Cornerstone, we employ our own cabinet makers and installers, so you can be 100% positive that we're building your cabinets only with you in mind.
Serving Southwest Florida since 1988, Cornerstone Builders has the tools, staff, and expertise to get the job done right the first time. Also, take we provide a lifetime material warranty on all of our manufactured products for as long as you own your home. We require ZERO DEPOSIT to get started on your project, so what are you waiting for? Contact us today to start building your custom cabinetry!