Your Perfect Bathroom
May 08, 2013
Have you ever thought of what your perfect bathroom might look like? Maybe you're looking for ample counter space for beauty items or a unique way to store shampoo bottles in the shower – either way, your bathroom is one of the most used rooms in your home. Also, because it's one the most used rooms in your home, it's important to keep it in top condition for resale purposes (bathrooms and kitchens hold a good deal of weight in real estate).
Here in Fort Myers and Naples, we are dealt our fair share of Florida weather problems – from hurricane damage to humidity and pests, we're no strangers to the elements wreaking havoc on our bathrooms. When it's time for a bathroom remodel, Cornerstone Builders can help!
Bathroom Cabinets & Countertops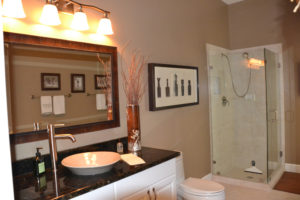 Most bathroom remodeling projects begin with a facelift of all items within the bathroom, starting with new bathroom cabinets and countertops. Whether you're looking for brand new custom-built cabinetry or a simpler cabinet reface, we can help. As for countertops, we can do solid-surface, granite, marble, or the most durable countertop on the market, engineered stone quartz. No matter which options you choose, your bathroom will come out with a new, fresh look!
Tub & Shower: More Than a Simple Look-Over
Once the work has been done with the cabinets and countertops, we move into the tub and shower area. When we do a bathroom remodel, we often demolish the entire area down to the studs to check for water damage. We find that many companies often just try to cover what you have and not take care of any underlying water damage problems. With Cornerstone, you can rest assured that we do more than a simple look-over of your bathroom – we inspect every detail to be sure that you're getting a bathroom you deserve.
Accessories Fit for Royalty
Oftentimes, it's the littlest things that make the biggest difference. When it comes time to pick out bathroom mirrors, light fixtures, paint colors, and other accessories, we'll be there to help. Unsure of what you're looking for? We'll show you pictures of past projects to see just what strikes you and then make suggestions. We want you to be WOWed with our work and to be 100% satisfied with the outcome of your bathroom remodel.
Cornerstone Builders of Southwest Florida: Your Fort Myers Bathroom Remodeling Destination
Remodeling any part of your home can be intimidating. With Cornerstone, we'll provide a custom bathroom remodeling experience that will WOW you! From the initial in-home consultation to completion of your bathroom remodel, we will be with you each step of the way to guide you. We provide a lifetime material warranty on all of our products for as long as you own your home and you pay ZERO DEPOSIT to start!
Ready to make some changes to your bathroom? Contact us today to get started!