Small Kitchen Remodeling – Can It Be Done?
May 06, 2013
This is one of the top questions we get asked at Cornerstone Builders. If you're looking for a new look for your small kitchen, remodeling is not out of the question! While you may think there's nothing to be done with a small kitchen, we have some tips to help you best utilize the space you have and make it work for you and your needs.
Opt for an Open Kitchen Layout
If you're looking for a major kitchen remodel, try remodeling with an open floor plan. When you create more walking space within a smaller area, you can make your kitchen look bigger and allow for easier traffic flow throughout.
Choose a Lighter Color Palette
Make your small kitchen look larger and feel more open with a lighter color palette. When you choose lighter, softer, and more natural colors, you can use natural light to your advantage.
Use Lines for Design
If you're looking for more of a modern feel for your small space, utilize lines within your kitchen's design. Sleek and clean lines will not only make your kitchen appear to be larger, but it will create a sleek, sophisticated look.
Light Up the Room
Installing proper lighting can do wonders for any sized kitchen. When you use the wrong lighting, you can make your kitchen seem smaller than it actually is. Install lights below the cabinets to create mood lighting that will accentuate the cabinets and countertops. Also, be sure to take advantage of natural light through the nearest window to emphasize the look of the cabinets and countertops.
Call the Professionals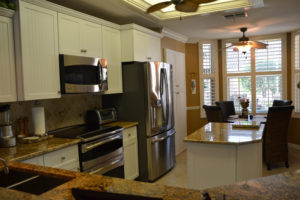 Cornerstone Builders of Southwest Florida has 25 years of remodeling experience and can help you remodel your kitchen to suit your needs. Serving all of Southwest Florida with showrooms in Naples and Fort Myers, Cornerstone has the tools, knowledge, and expertise to turn your small kitchen into a fully functional and utilizable space for you and your family!
From the initial in-home consultation to completion of the project, Cornerstone will be with you each step of the way to ensure not only that you receive the final project you deserve, but that you enjoy the process along the way. Our "designers" will guide you throughout the entire process and will be there to answer any and all questions you might have. Also, pay ZERO DEPOSIT to start your small kitchen remodel!

Ready to take your small kitchen to the next level? Give us a call and the opportunity to WOW you today!