3 Ways to Enhance Great Room Décor
Feb 27, 2018
Decor – Blog – Family Room – Living Room – Decor Tips – Cornerstone – Naples, Fort Myers, Marco Island
Whether you call your great room a living room, family room or front room, it is arguably one of the most important spaces in your home. Between being a leisure area for your family and being a conversation area when hosting guests, memories are sure to be made in the room so it should look its best.
Your style may be rustic, clean, modern, or chic, but no matter your taste there are universal ways to polish your home's interior decor. As you decorate a new residence or remodel your current home, consider these classic methods to keep your great room looking its best.
COUNTERTOPS & TABLES
Tables and visible countertops can play a large role in the overall feel of a room. The unique colors, patterns and shapes of granite, glass, marble, and wood can support your overall theme. Visibly rustic or modern tables could easily become a focal point in the room. If your tables or surfaces aren't a show stopper, tabletop décor will be your versatile alternative.
Add Depth and Dimension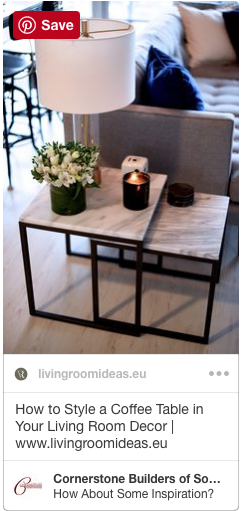 Think of your tables and counters as empty canvases upon which you can add elements that tie your room together. That could mean placing subtle natural pieces, such as an array of succulent plants, or adding known conversation pieces (such as memorabilia from world travels or your favorite sculpture). No matter what you choose, remember to think about how the color and style add to the overall room décor.
Additionally, try to feature items of multiple heights and display visible layers. This will keep the space from appearing toosynchronized or monotone. Dimension can be achieved by layering colorful items, adding multi-height candles, stacking collectibles, or displaying a variety of books with different shapes and sizes. In most instances avoid lining everything up; the variety adds complexity and invites intrigue.
Add Some Greenery
Plants are naturally beautiful and can be incorporated into most styles and themes. You don't have to go big either; a small air plant, cactus, or dried arrangement can add life and a splash of color to your great room with ease. An added benefit, plants absorb carbon dioxide and release oxygen, providing air purification as well as visual appeal.
DISPLAY REMARKABLE ARTWORK
The art you display in your great room makes an important (and often bold) statement. Many walls are often neglected and left bare. That is a missed opportunity to make a lasting impression or start an intriguing conversation. The art that you choose to hang is a primary focal point in your great room, and is a key differentiating factor in how your home will be brought together.
Don't feel the need to fill up your vignette entirely. The best décor is built over time, as you find pieces that perfectly fit your style and more importantly, mean something to you.

Arranging a Masterpiece
Independent of the artwork you choose to hang, visualize the final product before you bring nail to wall. It is best to first measure the space and visualize your pieces before you hang anything. How will the arrangement look? How will it measure up with the couch, desk or table beneath it?
Your assortment of artwork should be proportional to the things around it. Take into consideration the size of your walls and length of your couch. It is recommended that art should be hung between 6 and 8 inches above the couch and be positioned about 57 inches from the floor. As for size, look for artwork that is between one-half and two-thirds as long as the width of the couch beneath it.
With all this in mind, gather your pieces and arrange them on a table (or the floor). Move them around to discover what you like and to determine what will flow best in the room. Do not be afraid to arrange, rearrange, and rearrange again to see what you like best. A masterpiece takes time.
Bringing Photos to Life
One large image can be attention grabbing. However, it is best to avoid using an enlarged photograph of yourself or of the family. While family portraits can be adorable, they tend to look staged. Instead, pay tribute to your loved ones with a lifestyle photo – one from a family beach trip, picnic, celebration or other significant event. These types of photos add warmth to the room and can become a source of joy.
You can also use your photography as a conversation piece. If you've taken beautiful photos in your domestic or international travels, you could display them here in an arrangement. A particularly compelling photo in black and white can spark discussions among guests, or serve as a personal reminder of wonderful adventures abroad.
FLOOR DECOR (RUGS)
With all the attention placed on furniture and art, rugs can mistakenly be overlooked. Where rugs were once primarily functional, they now also can be a statement piece. Imagine the style of your room moving from traditional to exotic, or elegant to cozy with the switch of a rug.
Shades and Patterns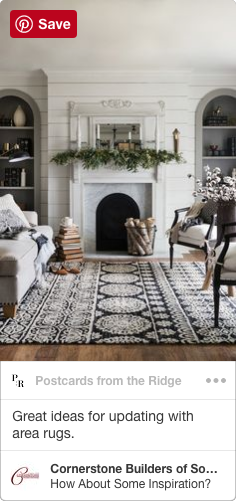 Tradition might compel you to opt for a natural-toned, muted rug. There is no need to be afraid of more bold styles. If you see a beautifully decorated piece with touches of red, orange, or yellow in it, or find a pattern you absolutely love, go for it! Do make sure, though, that the rug either supports the theme and other statement pieces or serves as a primary visual element itself (in which case other pieces around it should not be).
If you do decide you're going for a bold look, we suggest getting the rug first. It is difficult to find a statement rug that will exactly match the tone of your home. Getting the rug early and purchasing additional décor after is much more convenient and feasible.
Beauty or Comfort?
What are you using your great room for? Use the function of the room to determine what kind of rug material you may need. If, for example, you often have your children or grandchildren in the room, you might consider opting for something soft and comfortable rather than a purely aesthetic rug.
It is important to remind yourself, too, that accidents happen. If you know your great room is predominantly occupied with toddlers, cats, or dogs, plan ahead. You may forgo the antique rug in this space in favor of something more practical.
Size and Space
You'll likely love that you can choose a large rug for the great room because it may be one of few rooms with adequate space, but we recognize all floorplans are not created equal. If your great room has limited space, you may search for a rug to be placed in front of your couches (not underneath). These types of rugs should be between 6 and 18 inches.
When purchasing a rug, find one that is sized such that it doesn't cover the entire floor. Part of the beauty is the contrast between your intentional flooring and the dimension the rug adds to the room.
No matter the size, you can amp up the visual dimension by displaying a tasteful mix tones and textures.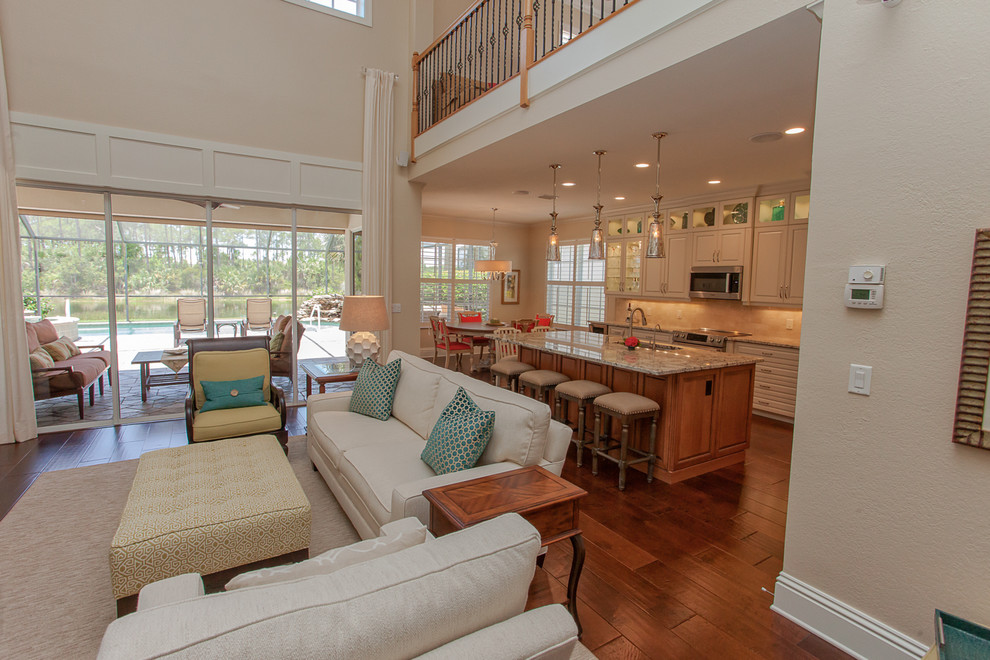 All in all, your great room (and home overall) should be both a representation of your style and interests, as well as a functional space to live your best life. The exciting part is that the space can change as often as you like! If you're up for change, try giving your home an entirely new feel with updated décor. If new statement pieces don't do the job, reach out to our team of talented designers. We excel in bringing dream homes to life, and would love to help you realize your vision. When you're ready to get started contact us for a free in-home consultation.