Amping Up Your Home's Curb Appeal
Jul 17, 2015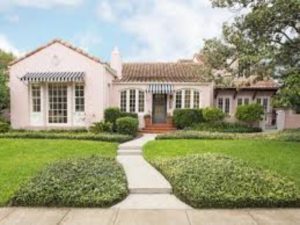 You may have gotten a bargain when you bought your house and saved money with a fixer upper. Over the years you may have put lots of money into the property, remodeling the kitchen, renovating the bath, solving the big problems and never quite getting around to the cosmetics—what is known as the "curb appeal".
Now with the real estate market in Southwest Florida heating up again, you may be thinking of selling (moving into that condo to give yourself less maintenance and more time on the golf course?) and how the house looks as prospective buyers drive by has suddenly become important. What can you do to add curb appeal to the house and dollars to your bottom line?
Here are some remodeling tips:
Hardscaping: Widening and paving your driveway and front walk can add cohesion and unity to the front of your home and might even create more parking space. Likewise building a fieldstone wall can create a small courtyard in the front, giving the home a small seating space and making for a welcoming impression. Use outdoor rugs, new outdoor furniture with weatherproof cushions and even weatherproof artwork to help define the space.
Lighting: The smart prospective buyer will drive by your home both day and night to see how the house looks in different conditions. Have good security lighting installed such as motion sensors over the garage and around the sides of the house, bright lights illuminating the walkway, uplights to spotlight trees and ornamental plantings and, of course, decorative fixtures lining the courtyard, wall, porch and above the front door.
Doors: Have a new garage door installed (with smartphone programmable opener) that not only replaces the tired old creaky one you have now, but adds windows and ties into the cohesive design scheme of the property. Switch out your front door for an expensive (looking) one that adds a pop of color.
Hardware: Switch out all doorknobs, window levers, house numbers and that old mailbox for new ones that coordinate with your scheme. Consider brushed metal, like nickel, for a trendy look that won't show scratches.

Painting & Repair: There is probably no better investment you can make than to have your whole house freshly painted. Go for complementary trim and a contrasting color for the front door. Have any broken drip edge and gutters fixed and any missing roof tiles replaced.
Landscaping: Renovating the landscaping is well worth the money. If you are having the property's sod redone, consider installing an automatic sprinkler system if you don't have one. That will help keep your new sod alive and thriving. Have trees and bushes professionally trimmed and install seasonal flowers, color, yet in keeping with your color scheme, all over the front of the home. Put fragrant plants in containers near your patio and pool.
Windows: Having outdated windows replaced can add great value and curb appeal to your home as well as adding to its energy efficiency. Such a small remodel can reap great rewards.
When you are ready to update, renovate or remodel your whole property, or just remodel your kitchen or bath, call us at Cornerstone. We can help amp up your home's curb appeal.