Cabinetry's New Faces of Storage
Dec 24, 2014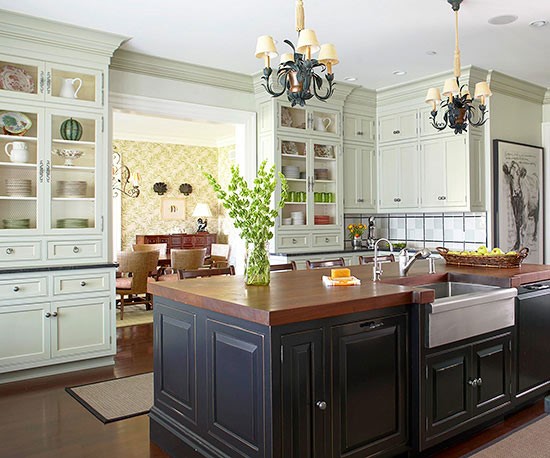 Picture by Better Homes and Gardens
Cabinetry is one of the most important design decisions that you will make when remodeling your kitchen. Cabinetry choices impact the functionality and design of the rest of the kitchen.
Simplicity
Light and simple is desirable now. White or off-white colors and sleek designs make for a clean and versatile look.
Customized
Remodeling projects are all about options and cabinets should be too. We have upgraded from our lazy Susans and spice racks to pullout trays, bread boxes and custom areas to store different shaped pots and pans.
Stand-Alone
The early 2000s were all about the island. Now we are seeing more versatile versions such as stand-alone tables with chairs pushed to the side until they are needed.
Incognito
Continuing with the idea of tucking things away for a seamless design, our drawers are now just as accommodating as our cabinetry. Shelves, pullout drawers, racks…most inserts are even customizable now. These type of space-saving innovations give remodeling plans much more freedom.
Point of Interest
Glass-front cabinet doors break up the consistent cabinetry façade and offer a fresh way to display any china, glassware, or heirlooms.
Dish Library
Floor-to-Ceiling Cabinetry is elegant and if you decide on glass-front cabinets, they can act as giant china cabinet display cases. They also offer plenty of storage space for more than just kitchen items.
Façade
Remodeling is now placing a big emphasis on efficiency while maintaining an elegant look. We are seeing (or not seeing?) refrigerators that look like cabinets at a glance.
Outcast
While we are liking the streamlined look, we are liking the unexpected even more with mismatched cabinets. A different color wood adds personality and interest. We're also seeing details like carvings and claw feet.
Variety
When remodeling, mixing different types of storage helps to break up the monotony of so many cabinet facades in a row. Stand-alone shelves can be alongside cabinets, etc.
The team at Cornerstone Builders of Southwest Florida can help guide you through the many different options of kitchen remodeling today. Contact us here today to take the first step of your transformation!