Custom Cabinetry: Which Wood Is Which?
Jun 26, 2015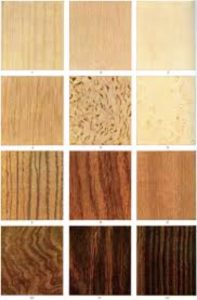 Woods are all unique, with differing characteristics, and choosing just the right one as your custom cabinetry for your remodeling project can be confusing. Here is some information about the characteristics of different types of woods to help you choose:
Cherry can take on a deep red patina over time, but its natural color ranges from pale yellow to reddish brown. A warm wood, it creates an elegant appearance distinguished by mineral streaks, small pinholes, grain swirls and subtle shadings when it is sometimes called Rustic Cherry.
Maple is a durable smooth wood, has a color range from creamy blonde tones to dark reddish shaded browns, and mellows with age into a rich patina. This wood also features mineral streaks and markings, creating a unique look.
Hickory is a dense wood that is very durable and known for its dramatic color variations–from pale white to grey to deep red heartwood. With Hickory, knots and streaks are part of the wood's charm.
Alder is a tight and straight grain hardwood, getting more popular each year. Though it dents fairly easily, Alder accepts stain well, thus allowing custom color application. Since it is elastic, it also is good for carving intricate details and is sometimes uses as a substitute for cherry. Knotty Alder is distinguished by knots, knotholes and pin holes, adding character.
Oak is known for its strength and durability. With a color range from tan to deep reddish brown, Oak takes on a golden glow with age. When finished with a light color stain, grain patterns (ranging from straight to arcs) will be easier to see. Darker stains make the difference in color between the open and closed grain areas more uniform and therefore less detectable. Oak for cabinetry is its ability to forgive nicks and bumps. Rustic Oak has more knots and pinholes.
Mahogany is a tropical medium-to-hard wood whose strength makes it an excellent carving wood. It's stability and resistance to decay makes the wood ideal for cabinetry. Ranging from tan to reddish brown, is may have ribbons, ropes, ripples, stripes or rings.
Lyptus is a strong hardwood that has similar graining to Mahogany with a mainly straight grain and occasional "ticking" to give it a distinctive look. As it ages, Lyptus mellows into a rich, deep color.
Pine is a light colored wood with brown to black colored knots that turn (with age) into a traditional yellow pin color. This wood is used to create a rustic feel and is often used in cabins and country homes.
Walnut is a rich premium hardwood, prized in North America for high-end cabinetry and furniture. Walnut provides strength, hardness, and durability without excessive weight. It has excellent woodworking qualities and takes finishes well. Walnut is light to dark chocolate-brown in color, with a straight grain in the trunk.
Bamboo is actually a grass that grows like a weed pretty much wherever it is planted, making it a highly sustainable natural resource and a good "green" choice. Bamboo is strong and hard and offers three different grains.
Exotic Veneers Many exotic species are available, such as lacewood, sapele, zebrawood, teak, beech, pearwood, anigre, and limba, used mostly in contemporary remodeling.
Reconstituted Veneers Made from real wood, these veneers are reconstituted products that have the grains of different wood species applied to them. They have all the warmth and character of the rare woods on which they are modeled, but are more cost effective with less environmental impact.
The team at Cornerstone will be happy to answer all your questions about which type of wood to choose for your kitchen, bathroom or general remodeling project. Please contact us for a free in-home consultation.