Design Your Kitchen Remodel with Eco-friendly Materials
Feb 25, 2015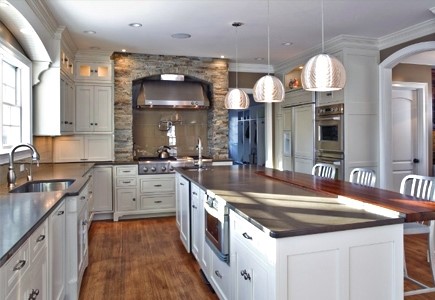 It may sound challenging to complete an eco-friendly kitchen remodel, but it can be done. Kitchens.com has great tips on the best materials to use for each major part of your kitchen remodel.
Cabinets
The casework (box and drawers) of modern cabinets are often made of medium density fiberboard and particleboard. Both contain a toxic urea formaldehyde glue. Find medium density fiberboard that is formaldehyde-free, or choose from an FSC-certified (Forest Stewardship Council) option like bamboo, plywood, or wheatboard. It may mean going custom but it will pay off in the form of an environmentally sound kitchen remodel.
Make sure to use water-based sealants for your kitchen remodel. Use no- or low- VOC (volatile organic compounds), solvent-free adhesives, and formaldehyde-free paints.
The following materials are great options for your green kitchen remodel:
Wood and wood veneers are made from a naturally occurring resource but look for cabinets that are certified by the FSC. Non-FSC certification standards are less strict and could even pass endangered tree species. You're looking for wood that came from a sustainable, well-managed forest.
Bamboo is actually a rapidly growing grass, not a wood. It is a great alternative to hardwoods for a sustainable kitchen remodel as it becomes large enough to harvest in only three to six years. Make sure to request a laminate that does not contain urea formaldehyde as most resins do. Keep in mind that there is no third-party organization (like the FSC) to regulate worker safety/environmental factors.
You may not have considered stainless steel as "cabinet material" but it's a very modern and durable alternative for your kitchen remodel. It is made largely with recycled steel but the mining and refining of the steel requires a lot of pollution and energy use.
Countertops
Similar to the casework in a cabinet, countertops need to be installed on top of a substrate. Be careful that the substrate is not made of anything containing toxins. Wood, bamboo, and stainless steel are also great options for countertops, although bamboo is not best near wet places, stainless steel showcases fingerprints, and wood harvesting can include harmful logging practices that destroy old growth forests and damage ecosystems. Other options include:
Paper or glass composite countertops as they sometimes include recycled glass, wood pulp, crushed stone, or paper.
Concrete can be stamped, colored, stained, scored, and sealed and is durable. It needs to be sealed regularly to avoid stains and to be considered green, the aggregate mixed with the water and cement should be recycled.
Some tile can be made with recycled elements (glass and ceramic)/. Ceramic tile is durable and biodegradable.
Stone is a natural material but needs to be sealed and is not renewable.
Flooring
Stay away from vinyl as it is not biodegradable. Green flooring choices include:
Linoleum is made from natural materials like felt, burlap, or canvas coated with cork, wood dust, linseed oil, and resins.
Bamboo is dent-resistant, looks like wood and can be installed the same way as hardwood.
Talk with Cornerstone Builders of Southwest Florida to determine what your best eco-friendly kitchen remodel options are! Contact us here today!