Farewell To The Triangle?
Jun 23, 2015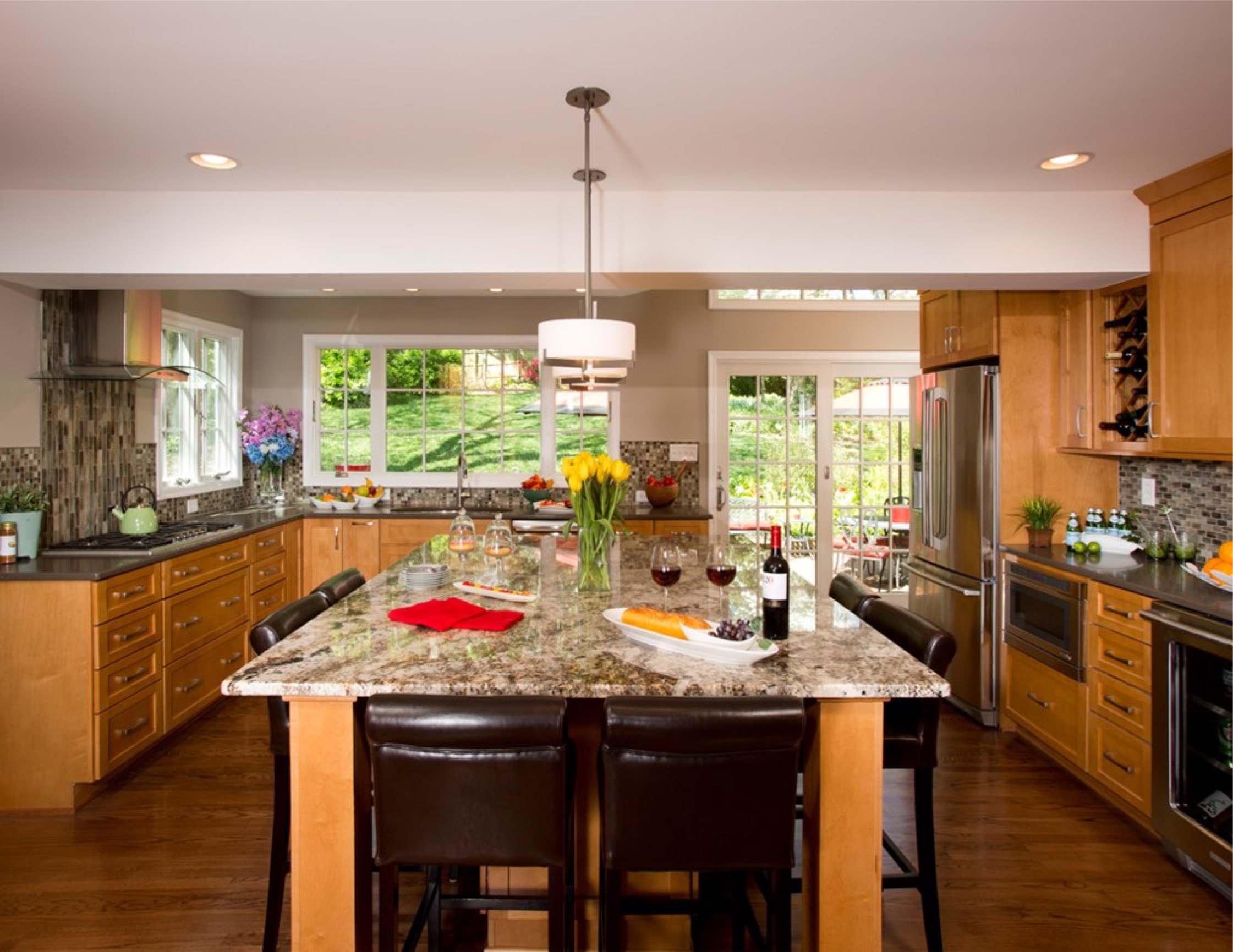 Remodeling a kitchen always means you must pay strict attention to dedicated areas for meal preparation, cleanup, and storage when you are considering the layout. Back in the day, that meant that during a kitchen remodel, a classic triangle was used—where the total distance from the sink to the stove to the refrigerator and back to the sink was not less than 12 feet total, nor more than 27 feet. Each triangle leg measured between 4 and 9 feet in length and the kitchen aisle was at least 42 to 48 inches wide to allow people to move around easily and for appliances to be opened with ease.
A good layout during a kitchen remodel still does demand a few things:
The appliances should be placed properly to ensure the best workable area.
The sink needs to be close to the dishwasher for easy loading.
The refrigerator should be at hand near food prep areas.
Food disposal and recycling bins should be near cleanup areas.
Cooking utensils, pots and pans should be stored nearby the stove and every kitchen needs plenty of drawers.
But now that triangle is not the only way to go about things. During a kitchen remodel, we are almost always asked that a kitchen be made multi-use. Here's a few ways we help make sure to meet that request:
Kitchen islands are very popular in homes and can help keep work areas traffic-free, while providing extra food prep, counter and storage space. The island can even host an extra sink, a mini-fridge, an island grill or even a wine rack.
Kitchen alcoves hosting a table (once nearly extinct as formal dining rooms became the must-haves) have made resurgence for casual meals in Southwest Florida, even doing double-duty as a desk.
Kitchens opening to a family room with entertainment cabinetry, bookcases, comfortable furniture and the de rigueur widescreen TV are always a favorite and allow the chef to join the conversations while preparing a meal.
Here are some classic shapes for your kitchen remodel and each has its benefits depending on how you plan to use the kitchen:
L-shaped: This shape can be used in both large and smaller kitchens and often allows for a center island. With two or three appliances on one wall, a refrigerator at one end, the sink in the middle and the cooktop on the other, this shape allows good traffic flow.
Double L-shaped: With room for plenty of counter and cabinet space, this shape can even be designed to accommodate two people cooking, allowing each their separate area.
U-shaped: This shape has three walls with the sink usually in the middle wall section and the cooktop and refrigerator on the side walls across from each other. You might need to make use of Lazy Susan's or pullout shelves to accommodate the corner cabinets this design requires and use large windows, skylights or task lighting to lighten up the darkness sometimes caused by the many cabinets used in this design.
G-shaped: This layout gives you a fourth wall to use for a counter or island. You'll have room for two cooktops or two sinks and conceivably two work triangles—say one for the sink, cooktop and refrigerator and the other for another cooktop, sink and maybe a grill. This affords plenty of room to two cooks to work in tandem.
Galley: If space is limited, the galley-shaped design saves the day. The cooktop should be on one wall and the sink and refrigerator on the opposite walls, so as not to impede the flow. If both ends of the galley are open, the refrigerator should be placed at one end so family members can grab a soda without disturbing the cook. (This is definitely a kitchen designed for one cook.) Using tall (to the ceiling cabinets) helps maximize storage.
Single-Wall: For a small condo on the beach, the design placing all appliances and cabinets on one wall helps make the most of a smaller space. In this design, the sink is between the refrigerator and stove, with the refrigerator door opening away from the kitchen sink.
Our knowledgeable and talented designers will help steer you to the perfect kitchen remodeling design. As the #1 remodeling company in Naples, Fort Myers and all of Southwest Florida, Cornerstone is happy to share all of our experience with you. Please contact us for a free in-home consultation.