Is A Contemporary Kitchen Right For You?
Jun 24, 2015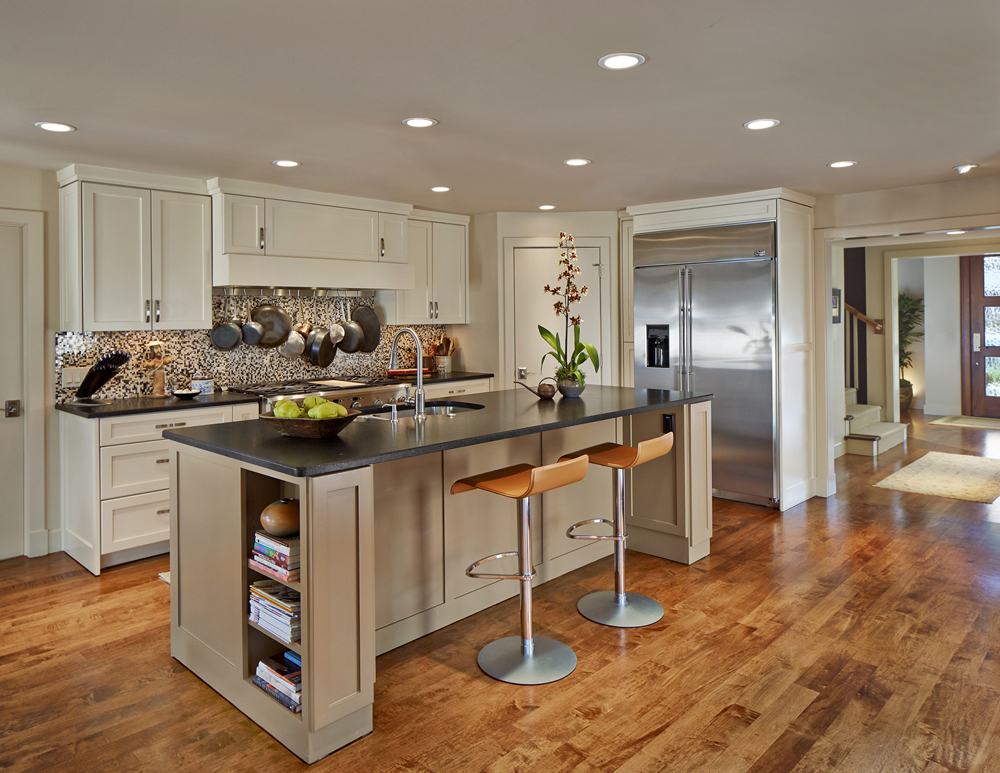 It is your kitchen remodeling project and there are different strokes for different folks. For everyone who loves carved cabinetry, multi-colored mosaic tiles decorating every surface, dramatic window coverings and lots of nooks and crannies in their kitchen remodel, there is another type of person who likes things, modern, geometric and uncluttered. This client might be called a minimalist and for them, the perfect kitchen style may be Contemporary.
Less is more
Contemporary kitchens purposefully strip down a kitchen to its function. Gone are moldings and unnecessary ornamentation. Lines are horizontal or asymmetrical and sleek is the order of the day. Appliances (sometimes industrial strength) are often stainless steel and other materials used in the kitchen are mostly man-made like chrome, laminate, frosted glass, polished concrete or even linoleum. Surfaces are often reflective.
Cabinetry may have minimal or no visible hardware and cabinet surfaces are often flat (sliding cabinets sometimes play a big part in Contemporary design.) Spaces are open and every part of the design is clean. Even window coverings are often reduced just to functional blinds to keep the sun's glare down or the window glass itself is treated to shade the room without the need of window coverings all together.
Design follows function
Everything in a Contemporary kitchen design is about functionality—Whatever makes the cook's life easier. From the layout of the appliances, (usually the classic triangle of refrigerator, sink and stove is used to increase efficiency), to where and what type of cabinetry is used. The idea in such a remodel is for everything to have a place and for that place to be exactly where the cook needs it to speed up and make the cooking process easier. Such lack of clutter and smooth surfaces also make cleaning a Contemporary kitchen a whole lot easier.
Different use of light and color
Contemporary kitchens often make use of recessed lighting (even using miniature spotlights in cabinet interiors if the cabinets are glass-faced.) Halogen lights are used to radiate on the countertop or workspace to give the cook the light they need. Pendant lights can light a kitchen island. What you rarely see in a contemporary kitchen is a chandelier.
Color in a Contemporary kitchen design can go either way. Perhaps walls painted in some hot shade can add the pop of color needed to keep all that stainless steel from becoming too industrial or you may go Italian and get tomato red cabinetry, making it the focal point of your new design scheme. Maybe you want to bring in the blue of SW Florida's beautiful Gulf of Mexico to shimmer off the stainless steel.
If a sleek and modern kitchen remodel is what you have in mind, give Cornerstone a call. Our experienced designers have handled hundreds of kitchen remodeling projects and we have the happy customers to prove that we are the #1 remodeling company in Naples, Ft. Myers and all of SW Florida. We are ready to provide the contemporary kitchen remodeling project you have been dreaming of, so contact us today to get a free in-home consultation.